One Piece: Volume 61
By Leroy Douresseaux
March 3, 2012 - 10:10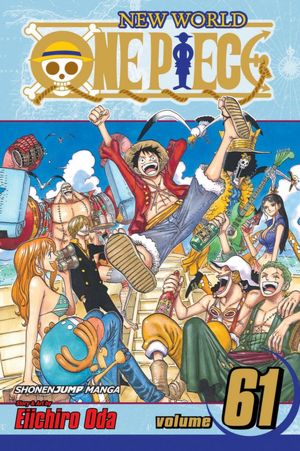 One Piece Volume 61 cover image is courtesy of barnesandnoble.com.
Rated "T" for Teen
As a small child, Monkey D. Luffy dreamed of becoming King of the Pirates. After eating the enchanted "Devil Fruit," Luffy gained the ability to stretch like rubber, but lost the ability to swim. Undeterred, Luffy set out to sea, gradually enlisting a motley crew known as the "Straw Hats" (as Luffy is often called "Straw Hat" because he wears a straw hat). Luffy and his crew sail the oceans, searching for the legendary treasure known as "One Piece."
One Piece, Vol. 61 (entitled Romance Dawn for the New World) is about reunion. Scattered across the world, Luffy's eight crewmates hear the call to reunite. Two years after the Paramount War, they are stronger (if not wiser). They meet at Sabaody Archipelago and head towards their refitted ship, Thousand Sunny. But where is Luffy? Who are those guys claiming to be the Straw Hat Pirates? The Navy would like to find out, also, because they're at Sabaody to take down Luffy and company.
THE LOWDOWN: The last chapters of the Paramount War storyline open this volume, but they're essentially epilogues. The next story arc, New World, begins with Chapter 598 (!), "Two Years Later." What's in store for the Straw Hats? The answer is more of the same, but that is not a bad thing.
I'm on record as a Naruto homer, but I recognize that the One Piece manga is one of the most imaginative manga and works of fantasy fiction and storytelling currently available to readers. Three is nothing in film that matches the inventive madness of One Piece creator, Eiichiro Oda. Every page of One Piece offers something unbelievable or startling, and many pages offer several things. The word "amazing" is abused in our current lexicon, but One Piece is truly amazing.
POSSIBLE AUDIENCE: Readers looking for shonen action/fantasy manga will find it in One Piece.
A

Last Updated: May 19, 2020 - 12:25