One Piece: Volume 55
By Leroy Douresseaux
September 30, 2010 - 09:15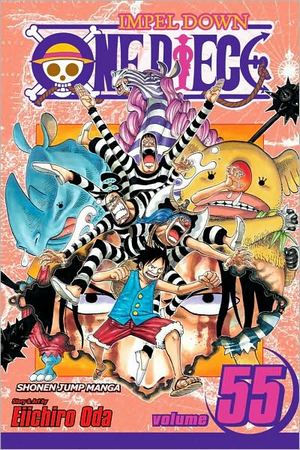 One Piece Volume 55 cover image is courtesy of barnesandnoble.com..
Rated "T" for Teen
Monkey D. Luffy had dreamed of becoming King of the Pirates since he was a boy. Luffy was also a child when the enchanted "Devil Fruit" gave him the ability to stretch like rubber while taking away his ability to swim. Luffy was undeterred and set out to sea, gradually enlisting a motley crew. Known as the "Straw Hats", they are Zolo the master swordsman; Nami the treasure-hunting thief; Usopp, the lying sharpshooter; Sanji the high-kicking chef; Chopper, the walkin' talkin' reindeer doctor; Nico Roin the secretive archeologist; Franky the shipwright and cyborg; and Brook the skeleton warrior with an afro. They sail the oceans aboard their new vessel, Thousand Sunny, searching for the legendary treasure known as "One Piece."
One Piece, Vol. 55 (entitled A Ray of Hope) opens to find Luffy continuing his invasion of the impregnable, undersea, prison fortress, Impel Down, in order to free his brother, Portgaz D. Ace, who is imprisoned there. Time is running out, and Ace's impending execution approaches. Luffy and an escaped prisoner, Mr. 2 Bon Clay, head for the fifth level where Ace is supposed to be imprisoned. However, Luffy and Bon Clay are about to learn that Impel Down holds many secrets, including the lair of Emporia Ivankov, the king of queens!
THE LOWDOWN: Gender-changing, comical Dante-esque hellscapes, and a menagerie of bizarre characters: this is what the 55th volume of One Piece offers. Plus, the drag queen character (for which I was waiting) appears and she kinda looks like Dr. Frank N. Furter. This One Piece is outrageous, imaginative stuff that makes for fine comic book and manga reading.
POSSIBLE AUDIENCE: Readers looking for wild, woolly, and rip-roaring will like One Piece.
A-
Last Updated: August 31, 2023 - 08:12