One Piece: Volume 33
By Leroy Douresseaux
February 26, 2010 - 19:30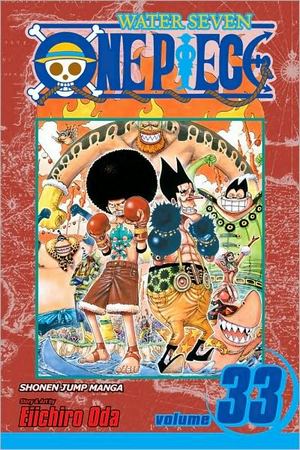 One Piece Volume 33 cover image is courtesy of powells.com.
Rated "T" for Teen
Monkey D. Luffy is still working on his childhood dream of becoming King of the Pirates. The enchanted "Devil Fruit" gave him the ability to stretch like rubber, but it also took away his ability to swim, which hasn't deterred Luffy from his dream. He set out to sea and gradually enlisted his very own pirate crew, known as the "Straw Hats." They sail the oceans on their ship, the Merry Go, searching for the legendary treasure known as "One Piece."
As One Piece, Vol. 33 (entitled Davy Back Fight) begins, the Straw Hats find themselves in a mess. Luffy has accepted the challenge thrown down by Foxy the Silver Fox, Captain of the Foxy Pirates. It's the Straw Hats versus the Foxy Pirates in Davy Back Fight. It's a three round battle, and the loser of each round must surrender a crewmate to the winner. After two rounds, everything is even. Now, it's Luffy versus Foxy, and Foxy plays dirty.
THE LOWDOWN: The Davy Back Fight is another opportunity for One Piece creator Eiichiro Oda to unleash his brilliant imagination. This entire volume will keep the reader on the edge of his seat, as each round of the competition is jammed against the other. That's the key to presenting a rousing series of skirmishes and epic battles that culminates in knock out fun.
POSSIBLE AUDIENCE: Readers looking for top Shonen Jump manga will want One Piece.
A-
Last Updated: August 31, 2023 - 08:12