One Piece: Volume 30
By Leroy Douresseaux
February 5, 2010 - 11:52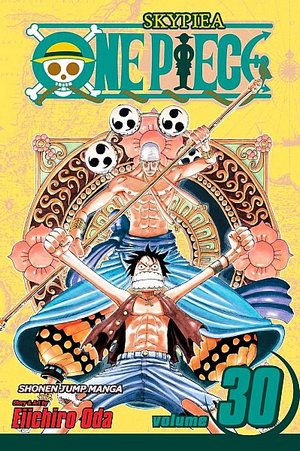 One Piece Volume 30 cover image
Rated "T" for Teen
Even after the enchanted "Devil Fruit" gave him the ability to stretch like rubber and took away his ability to swim, Monkey D. Luffy did not give up his dream of being a pirate. He set out to sea and gradually enlists his very own pirate crew. Known as the "Straw Hats," they are Zolo the master swordsman; Nami the treasure-hunting thief; Usopp, the lying sharpshooter; Sanji the high-kicking chef; Chopper, the walkin' talkin' reindeer doctor; and crafty archeologist, Nico Robin. The Straw Hats sail the oceans in the Merry Go, searching for the legendary treasure known as "One Piece."
One Piece, Vol. 30 (entitled Capriccio) finally brings the long awaited confrontation between Luffy and Kami Eneru. Meanwhile, even the Kami's followers have begun to accept the truth that their god wants to destroy Skypiea.
THE LOWDOWN: After reading several consecutive volumes of One Piece, I still marvel at how creator Eiichiro Oda keeps coming up with great visuals that unite to form some amazing graphic storytelling.
POSSIBLE AUDIENCE: It is good enough so that everyone should try One Piece at least once.
A-
Last Updated: February 5, 2023 - 09:06