One Piece: Volume 29
By Leroy Douresseaux
January 28, 2010 - 13:39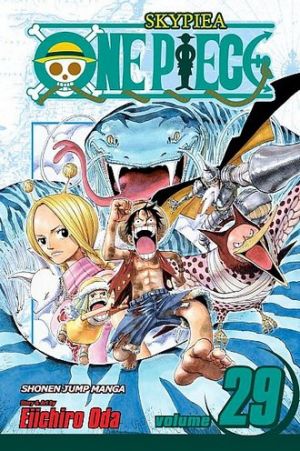 One Piece Volume 29 cover image is courtesy of powells.com.
Rated "T" for Teen
As a kid, Monkey D. Luffy dreamed of being a pirate. Even after the enchanted "Devil Fruit" gave him the ability to stretch like rubber and took away his ability to swim, Luffy remained determined and a decade later set out to sea. He gradually enlists his pirate crew: Zolo the master swordsman; Nami the treasure-hunting thief; Usopp, the lying sharpshooter; Sanji the high-kicking chef; Chopper, the walkin' talkin' reindeer doctor; and crafty archeologist, Nico Robin. Luffy and crew sail the oceans in the Merry Go, searching for the legendary treasure known as "One Piece."
The war to decide the fate of the Sky Island, Skypiea, rages on in One Piece, Vol. 29 (entitled Oratorio). Scattered about the island, the crew of the Merry Go, the Shandians, the Kami's forces and his remaining Vassal ("Sky Breeder" Ohm) gather at the ruins of the legendary city of gold, El Dorado, also known as Shandora. There, the terrible plot of Kami Eneru is revealed.
THE LOWDOWN: Creator Eiichiro Oda has packed the Skypiea storyline with so many battles, both epic and small, that readers may get the shonen manga version of sugar shock. It all comes to a head in this, Vol. 29, and the face-off with Eneru lives up to the expectations the previous five volumes have built. For some, this volume may even surpass those expectations.
POSSIBLE AUDIENCE: Young readers of Shonen Jump magazine will like One Piece.
A-
Last Updated: August 31, 2023 - 08:12