One Piece: Volume 22
By Leroy Douresseaux
September 28, 2009 - 09:23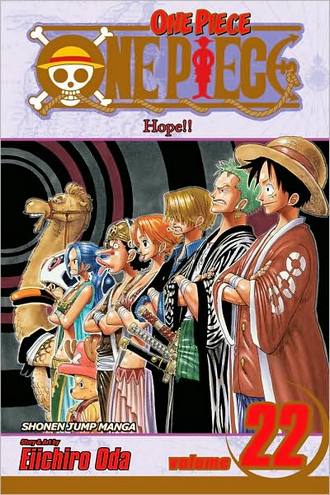 One Piece Volume 22 cover image is courtesy of barnesandnoble.com.
Rated "T" for Teen
Ever since he was a child, Monkey D. Luffy has wanted to be a pirate; in fact, he wanted to become the King of Pirates. Then, the enchanted "Devil Fruit" gave Luffy the ability to stretch like rubber, while taking away his ability to swim. Undeterred, he set out to sea and enlisted a motley crew: Zolo the master swordsman, Nami the treasure-hunting thief, Usopp, the lying sharpshooter, Sanji the high-kicking chef, and eventually, Chopper the walkin' talkin' reindeer doctor for his pirate ship, Merry Go.
In One Piece, Vol. 22 (entitled Hope!!), Sir Crocodile's plot to destroy the kingdom of Albasta moves to the royal capitol at Alubarna. Princess Vivi has devised a plan to end the civil war, and Crocodile and his secret criminal organization, Baroque Works, are revealed to be the masterminds behind the fighting between rebels and royal troops. Crocodile's true objective is to find Pluton, the most destructive weapon of the ancient world, which is supposedly hidden in Alubarna. With Luffy lying dead in the desert, can the rest of his crew stop Crocodile's plot?
THE LOWDOWN: Starting in January of 2010, VIZ Media is going to accelerate the publication of One Piece, with five new volumes published each month into June 2010. This is similar to what VIZ recently did with Naruto. One Piece seems to be a shonen manga (comics for teen boys) on the verge of becoming a monster hit.
Normally, weird characters and lots of fights, all which One Piece has, would be perfect for shonen-loving' me, but I'm not crazy about this zany and odd juvenile pirate manga, although I do think it is very well done. I absolutely love creator Eiichiro Oda's art. As a cartoonist (of the type who draws humorous illustrations), Oda is one of the best in the world. His funky style seems to meld Jack Cole's Plastic Man work with Neat Stuff-era Peter Bagge. One Piece is so crazy that it is like a John Kricfalusi Saturday morning cartoon on steroids and energy pills, and with its madcap, nonstop action, one can see why young readers are taking to it.
POSSIBLE AUDIENCE: Young readers who like the Pirates of the Caribbean movies will almost certainly like One Piece.
B+
Last Updated: August 31, 2023 - 08:12