Octopus Pie: There are no Stars in Brooklyn
By Leroy Douresseaux
July 27, 2010 - 11:04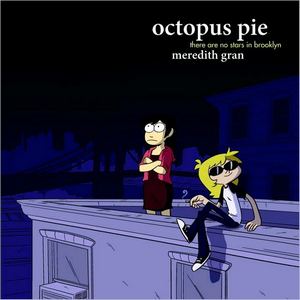 Octopus Pie: There are no Stars in Brooklyn cover image is courtesy of barnesandnoble.com.
Octopus Pie is a webcomics strip written and drawn by Meredith Gran that debuted on the Internet back in May 2007. The strip focuses on Everest "Eve" Ning, a young Asian-American woman living in Brooklyn, New York. Like many 20-somethings, Eve lives the post-graduate life between college and adulthood, while working at "Olly's Organix," a small organic foods grocery story.
Thanks to the machinations of her mother, Eve ends up with a new roommate after breaking up with her boyfriend. The new roomie turns out to be an old Pre-K classmate, Hanna Thompson. Together, the contrarian Eve and the pot-smoking and dealing Hanna navigate a world full of strange people and odd folks.
Octopus Pie: There are no Stars in Brooklyn, recent trade paperback from Villard Books, collects the first two years of Octopus Pie plus some bonus material. Although Octopus Pie is a black and white strip, There are no Stars in Brooklyn is printed in 2-color, olive green and B&W. For some reason, this makes it seem as if the strips are from the 1950s, although the stories are set in modern times – at least to me.
The back of the book has a quote from Bryan Lee O'Malley, creator of the Scott Pilgrim series, in which O'Malley says that "Gran's cartooning is beautiful…" That's true. Gran's compositional skills and draftsmanship are not like someone who self-publishes on the web. Her art and graphic storytelling are like that of a professional who has to be at the very top of her game because her cartoons appear in publications like the New Yorker or Playboy. I don't mean to denigrate webcomics, but the minute I opened this book and read a few panels, I thought of Gran as an elite talent publishing work that should be in the world of elites.
As for the strips, which are gathered in story arcs, they're comedy of various sorts. Like Peanuts or For Better or Worse, Octopus Pie can be everything from slapstick and surreal to poignant and meaningful. This is really a joy to read, so readers should let Octopus Pie: There are no Stars in Brooklyn introduce them to a new favorite comics strip - guaranteed.
A
Last Updated: August 31, 2023 - 08:12