Nura: Volume 19 manga review
By Leroy Douresseaux
February 5, 2014 - 12:32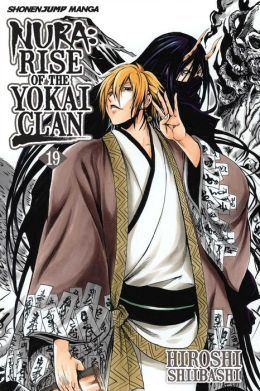 Nura Rise of the Yokai Clan Volume 19 cover image is courtesy of barnesandnoble.com.
Rated "T" for Teen
Middle school student Rikuo Nura wants to be a normal kid, but he is only three-fourths human. The other quarter is yokai, the supernatural creatures of Japanese folklore. His grandfather is Nurarihyon, the Overlord and Supreme Commander of the Tokyo-based, yokai consortium, the Nura Clan. Nurarihyon wants Rikuo to take his place as the next leader of the Nura Clan – the Lord of a Hundred Demons. Rikuo is reluctant, but at night, his yokai blood awakens. He becomes the "Third," the future leader and current "Underboss" of Nura Clan.
As Nura: Rise of the Yokai Clan, Vol. 19 (entitled Ghost Story: Kudan – Chapters 157 to 165) opens, the Hundred Stories Clan continues to plot against the Nura Clan. The story travels back to Edo Period Japan and recounts the battle between Sanmoto, the Overlord of the Hundred Stories Clan, and the team of Rihan Nura (Rikuo's late father) and Kurotabo.
Back in the present, a yokai named Kudan is born. Known for having the gift of prophecy, Kudan declares that Rikuo must be killed. During the day, Rikuo is human, which makes him vulnerable to attack, but Yuki-Onna comes to the rescue.
What Rikuo does not know is that the seven leaders of the Hundred Stories Clan have gathered. Arms, Ears, Mouth, Facial Skin, Brain, Nose, and Bones are about to chase their quarry. They want to play a game – part tag and part rock-paper-scissors. Supersteel Raiden (Bones) and Tamasaburo (Facial Skin) lead the attack.
THE LOWDOWN: The Nura: Rise of the Yokai Clan manga has spent the last three years or so in full battle manga mode. After the pyrotechnics of the Hagoromo-Gitsune story arc, creator Hiroshi Shiibashi has his hero, Rikuo Nura, and his allies facing off against the formidable Hundred Stories Clan.
It's fun. It's exciting. With its weirdo hero and weirder villains, Nura: Rise of the Yokai Clan is like a Batman comic book. Think of the Hundred Stories Clan conspiracy as being like Batman and family versus a crazy alliance of Batman's nuttiest and most dangerous foes. So Nura is shonen manga with a Batman: Hush kick.
POSSIBLE AUDIENCE: Readers looking for shonen scary will want the Shonen Jump title, Nura: Rise of the Yokai Clan.
Rating: A+ /10
Last Updated: August 31, 2023 - 08:12