Nura: Rise of the Yokai Clan: Volume 4
By Leroy Douresseaux
August 25, 2011 - 15:29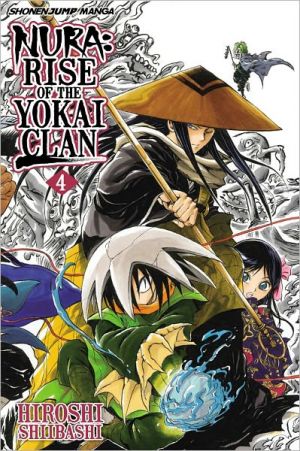 Nura: Rise of the Yokai Clan Volume 4 cover image is courtesy of barnesandnoble.com.
Rated "T" for Teen
Rikuo Nura is not fully human. The teen is three-fourths human, but one quarter of him is yokai, the supernatural creatures of Japanese folklore. His grandfather is Nurarihyon, the Supreme Commander of the powerful Yokai consortium, Nura Clan. Nurarihyon wants Rikuo to take up his mantle as the next leader of the Nura Clan, but his grandson doesn't want that position because humans fear yokai. Rikuo just wants to be normal and not scare humans. Still, his yokai blood awakens at night, and he becomes the "Third," the future yokai leader.
As Nura: Rise of the Yokai Clan, Vol. 4 (entitled The 88 Demons of Shikoku) opens, Nurarihyon disappears, and this throws the clan into a panic. Meanwhile, the 88 Demons of Shikoku move into Ukiyoe Town, Nura Clan's home base. Not only is Gyobu Tamazuki, leader of the 88 Demons, determined to take over the town, but he also wants the 88 Demons to challenge the Nura Clan as the most powerful yokai syndicate. He even sends his mad-dog, Inugami, to kill Rikuo.
THE LOWDOWN: While Nura: Rise of the Yokai Clan continues to be an excellent monster comic book and fantasy series, it shows a crime fiction/gangster side. The series also has a mafia side, sort of like yokai literature blended with The Godfather or a similar mob movie. However, the storyline that makes up most of this volume, "The Yokai Inugami," is pretty much a teen monster/slasher tale. It has the would-be killer lurking in the shadows, while students fill the auditorium to hear campaign speeches from candidates for student president. It's almost like a tense political thriller, but as usual, Nura offers so much more in so many different flavors.
POSSIBLE AUDIENCE: Readers looking for a cool monster and yokai comic book will find an excellent one in Nura: Rise of the Yokai Clan.
A-
Last Updated: August 31, 2023 - 08:12