Nura: Rise of the Yokai Clan Volume 3
By Leroy Douresseaux
June 27, 2011 - 07:36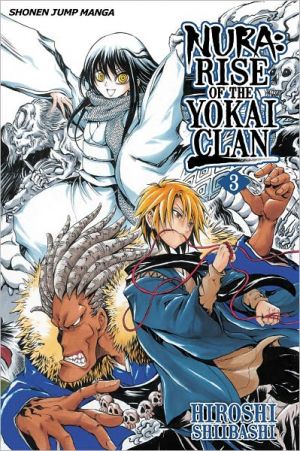 Nura: Volume 3 cover image is courtesy of barnesandnoble.com.
Rated "T" for Teen
Rikuo Nura is three-fourths human and one quarter yokai, the supernatural creatures of Japanese folklore. His grandfather is Nurarihyon, the Supreme Commander of the Nura Clan, a powerful Yokai consortium. Nurarihyon wants Rikuo to take up his mantle as the next leader of the Nura Clan. Rikuo doesn't want that position because humans fear yokai and he just wants to be normal and not scare humans. When his yokai blood awakens at night, however, Rikuo becomes the "Third," the future yokai leader.
As Nura: Rise of the Yokai Clan, Vol. 3 (entitled The Nura Clan Assembly) begins, Rikuo battles the traitor – Gyuki, who holds an executive position in the Nura Clan. Nura's confrontation with the mutinous Gyuki reveals a schism within the clan. There are many who believe that Rikuo is unfit to lead the clan, and how Rikuo decides to punish Gyuki will decide for some if he is fit to be leader. Is he even fit to be the "Overlord," the second in command. Meanwhile, the attacks against the clan from increasingly powerful rival yokai continue.
THE LOWDOWN: Not only is Nura: Rise of the Yokai Clan an excellent monster comic book, but it is also a good fantasy drama. Creator Hiroshi Shiibashi takes time to delve into all the major characters, especially after having firmly established Rikuo Nura. This volume even gives us a scary and heart-rending origin story for Gyuki. Yokai exorcist and likely love interest for Rikuo, Yura Keikain, gets two storylines that focus on her and with good reason. She could star in her own manga. As I wrote the last time: Nura is a joy to read, and I really can't wait for the next volume.
POSSIBLE AUDIENCE: Readers looking for a cool monster comic book or high quality shonen yokai manga will find a good one in Nura: Rise of the Yokai Clan.
A-
Last Updated: August 31, 2023 - 08:12