Nura: Rise of the Yokai Clan Volume 1
By Leroy Douresseaux
January 25, 2011 - 11:48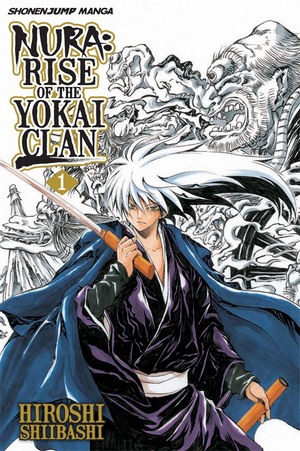 Nura: Rise of the Yokai Clan Volume 1 cover image
Rated "T" for Teen
Nura: Rise of the Yokai Clan is a new shonen manga from creator Hiroshi Shiibashi. The series focuses on a boy struggling with his supernatural destiny, a destiny that seemingly won't be ignored in spite of the boy's best efforts.
Rikuo Nura is three-fourths human and one quarter yokai, the supernatural creatures of Japanese folklore. Nura's grandfather is Nurarihyon, the Supreme Commander of the Nura Clan, a powerful Yokai consortium. Nurarihyon is ready for Nura to take his mantle as the "Third," the next leader of the Nura Clan. Humans fear yokai, and Nura just wants to be normal and not scare humans. When his yokai blood awakens, however, Nura's true self comes to light – at night.
In Nura: Rise of the Yokai Clan, Vol. 1 (entitled Becoming the Lord of Pandemonium), various factions in the yokai world challenge Nura's presumed place as the Third. Meanwhile, his classmates take an active interest in yokai, thanks in large measure to the encouragement of a wealthy classmate. Someone else is taking an interest in yokai. She's a new student named Yura Keikain, and she's an exorcist that specializes in yokai.
THE LOWDOWN: Anyone who has been embarrassed by the antics of family and relatives – too embarrassed to introduce your friends and the outside world to them – will recognize the dilemma of Rikuo Nura. Whether you will like it or not is another question? I do.
Nura has the macabre playfulness of Charles Addams' cartoons and action set pieces similar to the manga, Rosario+Vampire (but without the edge and violence). The composition of the art is a little jumbled, and the storytelling is not as clear as it could be. Still, Shiibashi's manga shows so much imagination in creating fantastic creatures and in fashioning one crisis after another for the hero to manage. It is enough to keep me coming back.
POSSIBLE AUDIENCE: Readers looking for a cool monster comic book for young readers will find it in Nura: Rise of the Yokai Clan.
B+
Last Updated: August 31, 2023 - 08:12