Nura: Rise of the Yokai Clan: Volume 9
By Leroy Douresseaux
May 30, 2012 - 13:50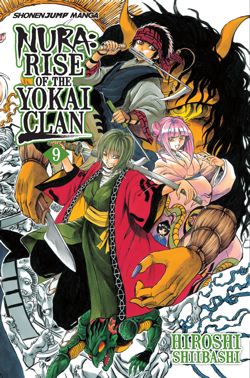 Nura: Rise of the Yokai Clan Volume 9 cover image is courtesy of Anime Castle Books.
Rated "T" for Teen
The day belongs to humans, but the night belongs to yokai, the supernatural creatures of Japanese folklore. Middle school student Rikuo Nura is three-fourths human and one-quarter yokai. His grandfather is Nurarihyon, the Overlord and Supreme Commander of Nura Clan, a powerful Yokai consortium. Nurarihyon wants Rikuo to take his place as the next leader of the Nura Clan. Rikuo is reluctant, but at night, his yokai blood awakens. He becomes the "Third," future leader and current "Underboss" of Nura Clan.
As Nura: Rise of the Yokai Clan, Vol. 9 (entitled Tono Monogatari) opens, Rikuo continues his training in the yokai village of Tono. There, he can safely discover what powers he has, but he is also going to learn about the power of fear. Meanwhile, in Kyoto, the Hidemoto seals that held the monstrously powerful yokai, Hagoromo-Gitsune, prisoner for 400 years are breaking. Her followers make a move to shatter the rest of the barriers. Can Rikuo learn enough to fight her, and will he have any help fighting Hagoromo-Gitsune and her minions?
THE LOWDOWN: With each volume I read, I am more certain that the Nura: Rise of the Yokai Clan manga is my favorite yokai-themed manga. Creator Hiroshi Shiibashi has fashioned a shonen manga that is like Naruto, but is also more filled with a sense of childlike wonder. Naruto can be so martial and violent; Nura is about friendship and family. Rikuo and friends are just as likely to go camping or shopping as they are to end up fighting a pitched battle. It is a bit shojo that way.
POSSIBLE AUDIENCE: Readers of all ages who like yokai fantasy will find in Nura: Rise of the Yokai Clan a must-have.

Rating: A /10
Last Updated: August 31, 2023 - 08:12