Nura: Rise of the Yokai Clan: Volume 8 Manga Review
By Leroy Douresseaux
March 27, 2012 - 13:20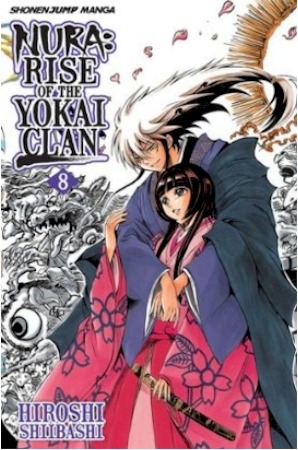 Nura Volume 8 cover image is courtesy of Anime Castle Books.
Rated "T" for Teen
Middle school student Rikuo Nura is not fully human. Why is that? He is three-fourths human and one-quarter yokai, which are the supernatural creatures of Japanese folklore. His grandfather, Nurarihyon, is the Overlord and Supreme Commander of Nura Clan, the powerful Yokai consortium. Nurarihyon wants Rikuo to take his place as the next leader of the Nura Clan, but his grandson is reluctant. Humans fear yokai, and Rikuo just wants to be normal and not scare humans. Still, his yokai blood awakens at night, and he becomes the "Third," the future yokai leader and current "Underboss" of Nura Clan.
Nura: Rise of the Yokai Clan, Vol. 8 (entitled Echoes of the Past) opens in the middle of "The Spirit Blade Nenekirimaru" storyline. The story travels four centuries into the past where readers will find a 100-year-old Nurarihyon pursuing the human Princess Yo so that he can propose marriage to her. The princess is a human with special powers which makes her the target of the monstrously powerful yokai, Hagoromo-Gitsune. To save Princess Yo, Nurarihyon will have to battle Hagoromo, but this is a battle he cannot win.
THE LOWDOWN: Of all the yokai-themed manga that I've read, the Nura: Rise of the Yokai Clan manga is my favorite, which is saying a lot because I've come across some good ones. Nura is one of those Shonen Jump manga in which the creator, in this instance, Hiroshi Shiibashi, is so visually and graphically inventive. Turning a page is a chance to be surprised and usually delighted by the strange creatures he conceives. The stories are fun to read, being more fight comic than character drama. I think the mixture of battles and cool monsters makes this a good manga for young readers.
POSSIBLE AUDIENCE: Readers looking for a Shonen Jump yokai fantasy for young readers will not go wrong with Nura: Rise of the Yokai Clan.
A-
Last Updated: August 31, 2023 - 08:12