Nura: Rise of the Yokai Clan Volume 7
By Leroy Douresseaux
January 27, 2012 - 15:11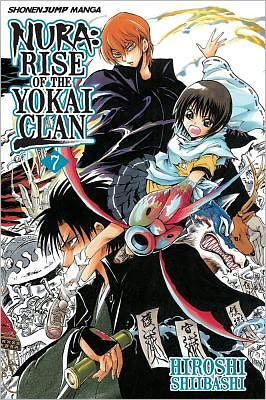 Nura: Rise of the Yokai Clan Volume 7 cover image is courtesy of barnesandnoble.com.
Rated "T" for Teen
Middle school student Rikuo Nura is not fully human? He is three-fourths human and one-quarter yokai, the supernatural creatures of Japanese folklore. His grandfather is Nurarihyon, Overlord and Supreme Commander of the powerful Yokai consortium, the Nura Clan. Nurarihyon wants Rikuo to take his place as the next leader of the Nura Clan, but his grandson is reluctant. Humans fear yokai, and Rikuo just wants to be normal and not scare humans. Still, his yokai blood awakens at night, and he becomes the "Third," the future yokai leader and current "Underboss" of the Nura Clan.
As Nura: Rise of the Yokai Clan, Vol. 7 (entitled The Three Keikain Siblings) opens, Nura is looking for his friend, Yura Keikain, who is an onmyoji, an exorcist who specializes in defeating yokai. Nura has managed to keep his identity secret from her, but he cannot any longer. Yura's brothers, Ryuji and Mamiru, are in Ukiyoe Town, and they're looking for her. And they don't mind killing a yokai or two along the way – even a yokai prince.
THE LOWDOWN: I can officially say that the Nura: Rise of the Yokai Clan manga will not disappoint me. Even if there is an occasional mediocre chapter, this will still be an exceptional series. Nura is like an American team comic book series, and I like to call it a kind of X-Men, but with yokai instead of mutants. Creator Hiroshi Shiibashi always has fresh ideas for the series, usually dropping hints about a new storyline just as a current one is closing. The supporting characters are also as interesting as the star, and in many cases, perhaps, more so. For readers, Nura is a win win.
POSSIBLE AUDIENCE: Readers looking for a Shonen Jump fantasy will not go wrong with Nura: Rise of the Yokai Clan.
A-
Last Updated: August 31, 2023 - 08:12