Nura: Rise of the Yokai Clan: Volume 2
By Leroy Douresseaux
March 27, 2011 - 09:55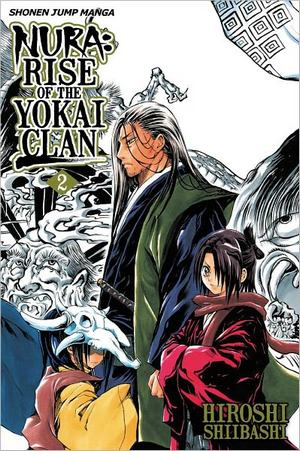 Nura: Rise of the Yokai Clan Volume 2 cover image is courtesy of barnesandnoble.com.
Rated "T" for Teen
Rikuo Nura is three-fourths human and one quarter yokai, the supernatural creatures of Japanese folklore. Nura's grandfather is Nurarihyon, the Supreme Commander of the Nura Clan, a powerful Yokai consortium. Nurarihyon is ready for Nura to take his mantle as the "Third," the next leader of the Nura Clan. Nura doesn't want that position because humans fear yokai and he just wants to be normal and not scare humans. When his yokai blood awakens, however, Nura's true self comes out at night.
As Nura: Rise of the Yokai Clan, Vol. 2 (entitled Rikuo vs. Gyuki) begins, Nura faces another rebellious group of yokai that don't want him to be the Third. This time it is the Kyuso Clan – the rat yokai, and they've kidnapped some of Nura's friends in a bid to force him to resign.
However, the Kyuso are part of a larger conspiracy. The anti-Nura ring leader is revealed when the Kiyojuji Paranormal Patrol takes a trip to Mt. Nejireme. As a member, Nura is forced to travel with his friends to the supposedly yokai-filled forest on the mountain. There, Nura ends up facing the biggest threat to his life and future yet.
THE LOWDOWN: Like Naruto, Nura: Rise of the Yokai Clan is about a boy of destiny, and with the stories in this volume, Nura comes into its own. This is an excellent shonen manga, a kind of mixture of the X-Men, Rosario+Vampire, and the aforementioned Naruto.
Creator Hiroshi Shiibashi tells the story in a loose art style, shaped and formed by lush inking. Shiibashi splatters every corner of his comic book with an inventive and imaginative assortment of creatures and monsters, and he also creates such beautiful settings, from haunted houses to monster-filled forests. Nura is a joy to read, and I really can't wait for the next volume.
POSSIBLE AUDIENCE: Readers looking for a cool monster comic book for young readers will find one of the best new ones in Nura: Rise of the Yokai Clan.
A
Last Updated: August 31, 2023 - 08:12