Nora: The Last Chronicle of Devildom: Volume 6
By Leroy Douresseaux
August 1, 2009 - 20:29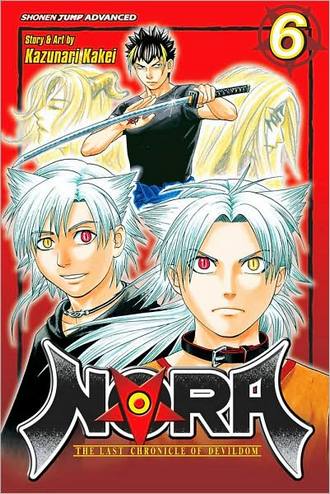 Nora Volume 6 cover image is courtesy of barnesandnoble.com.
Rated "T+" for "Older Teen"
An unruly denizen of the Demon World, Nora is the vicious dog of disaster – the legendary hell hound known as Cerberus. He defied his superiors too many times, so Her Infernal Majesty, the Dark Liege forced Nora into a bond of servitude to the cool-as-ice high school student, Kazuma Makkari. Kazuma can even stop Nora from using his powers by simply yelling, "I forbid it!" Kazuma will learn the ways of the underworld, and Nora will learn more from the "real world" than he ever thought possible.
In Nora: The Last Chronicle of Devildom, Vol. 6 (Cerberus and the Dark Liege), Nora and Kazuma learn the shocking history of the Demon World, including the story of the previous incarnations of the Dark Liege and Cerberus. Even more shocking, Nora learns his own history and discovers how he is really connected to Kazuma. Plus, the outlaw demon group, the Resistance, finally makes its assault on Dark Liege Army Headquarters.
THE LOWDOWN: While Nora: The Last Chronicle of Devildom may have some of the hallmarks of shonen manga: cool weirdo creatures, big fight scenes, and a bizarre internal mythology, it's the fantasy/horror/comedy version of a character drama. The characters, with their funny personalities (spoiled, bratty, back-stabbing, mischievous, etc.), are intriguing; if not this series might come across as standard fare. Even creator Kazunari Kakei's art captures the series combative, comic tone. This volume is also a good entry point for new readers, as it reveals so much about series' mythology.
POSSIBLE: Readers looking for humorous dark fantasy will enjoy Nora: The Last Chronicle of Devildom.
B
Last Updated: September 6, 2021 - 08:15