Nora: The Last Chronicle of Devildom: Volume 3
By Leroy Douresseaux
February 16, 2009 - 11:16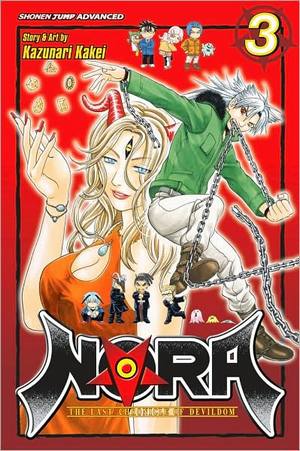 Nora 3 cover image is courtesy of barnesandnoble.com.
Rated "T+" for "Older Teen"
Nora is an unruly demon. He is the vicious dog of disaster – the legendary hound known as Cerberus, and he defied his superiors too many times. Thus, Her Infernal Majesty, The Dark Liege forced Nora into a bond of servitude to the cool-as-ice high school student, Kazuma Makkari. Kazuma can even stop Nora from using his power by simply yelling, "I forbid it!" Kazuma is about to learn about the underworld, but Nora may learn more about the human world than he ever imagined.
In Nora: The Last Chronicle of Devildom, Vol. 3 (The Soul Stones), Nora and Kazuma find themselves thrown head first into a quarrel with the Resistance, a group of outlaw demons plotting against the Dark Liege. Their goal is to retrieve the Soul Stones, five jewels from the Demon World that when put together make up the Dark Liege's soul. Nora doesn't want the Resistance to get the Stones, but if he can get them, he may be able to force his way out of bondage.
THE LOWDOWN: At first glance, Nora: The Last Chronicle of Devildom doesn't really look like much, or least nothing more than a fantasy manga about a war in the world of demons that spills over into the real world. Nora, however, packs a lot of comic punch. Sure, it's a fantasy, but like many shonen manga, action/fantasy series, Nora's strength is not just in cool weirdo characters, big fight scenes, and a bizarre internal mythology; it's also based on characters with funny personalities.
The characters of Nora are spoiled, bratty, back-stabbing, mischievous, and oh-so immature. Each comes with a wealth of stubborn self-interest and motivation which leads to a constant state of fun and entertaining conflict. It only helps that each character really believes he's better than the next.
POSSIBLE: Readers who pick through the "Shonen Jump Advanced" line for comic fantasy will find it in Nora: The Last Chronicle of Devildom.
B+
Last Updated: September 6, 2021 - 08:15