Nisekoi: False Love Volume 25 manga review
By Leroy Douresseaux
March 9, 2018 - 23:16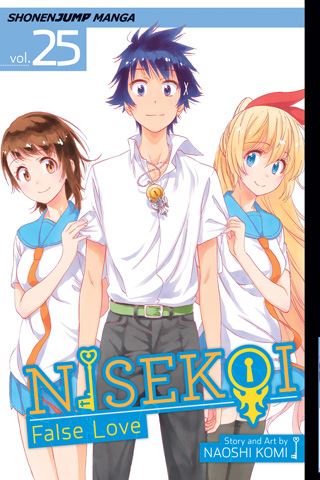 Nisekoi: False Love Graphic Novel Volume 25 cover image
Rated "T" for "Teen"
Raku Ichijo
and
Chitoge Kirisaki
are enemies, but their fathers are the heads of rival yakuza syndicates. In order to keep a gang war from starting, Raku (
Shuei-Gumi
) and Kirisaki (
Beehive
) act as if they are a teen couple in love. In fact, Raku is also searching for his childhood sweetheart, and wears a pendant lock around his neck, a memento of the promise he made to a mystery girl 10 years ago. Chitoge is one of four young ladies who could be the mystery girl.
As
Nisekoi: False Love

, Vol. 25
(subtitled
False Love
– Chapters 218 to 228 to "final story") opens, the search for the missing Chitoge stops at
Tenku Highland
. Through a series of flashbacks and recovered memories, the girl to whom Raku Ichijo pledged marriage will be revealed.
THE LOWDOWN:
The Nisekoi: False Love manga has come to a conclusion. Some characters had already been forced to deal with the fact that they were part of a love triangle. Now, some will have to accept that they are not the chosen one.
Nisekoi: False Love Graphic Novel Volume 25
is a bit melancholy. A fun manga has come to an end. After all, this series could have run on for a long time, simply spotlighting supporting characters and both romantic and non-romantic story lines.
The fact that the hero, Raku, has finally had to choose one of two excellent heroines is testament to the wonderful characters created by series creator, Naoshi Komi. I will not offer spoilers, but while the finale promises wedding bells, and the story has a couple ready for marriage... So Nisekoi: False Love is worthy of being read by new manga readers for years to come.
I READS YOU RECOMMENDS:
Readers looking for a shonen comedy doing shojo love will want to try the Shonen Jump title,
Nisekoi: False Love
.
A
9 out of 10
Rating: 9 /10
Last Updated: February 5, 2023 - 09:06