Nisekoi: False Love Volume 24 manga review
By Leroy Douresseaux
February 6, 2018 - 06:36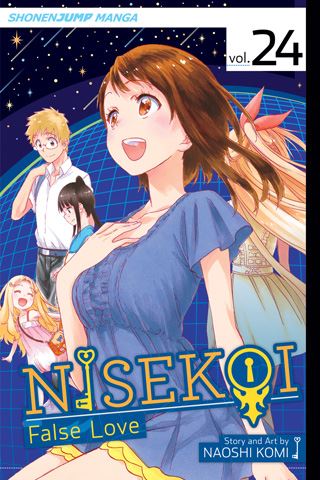 Nisekoi: False Love Graphic Novel Volume 24 cover image
Rated "T" for "Teen"
Raku Ichijo
and
Chitoge Kirisaki
are enemies, but their fathers are the heads of rival yakuza syndicates. In order to keep a gang war from starting, Raku (Shuei-Gumi) and Kirisaki (Beehive) act as if they are a teen couple in love. In fact, Raku is also searching for his childhood sweetheart, and wears a pendant lock around his neck, a memento of the promise he made to a mystery girl 10 years ago. Chitoge is one of four young ladies who could be the mystery girl.
As
Nisekoi: False Love

, Vol. 24
(subtitled
Night of the Falling Stars
– Chapters 208 to 217) opens, Raku's friend,
Shu Maiko
, and
Ruri Miyamoto
, the girlfriend of
Kosaki Onodera
(Raku's crush), find themselves playing heroes to a little American girl who got separated from her parents at a shopping mall. Now, Maiko and Miyamoto will find themselves revealing different sides to one another. Later, when a stormy night halts a planned night of stargazing, the aforementioned Kosaki says something that forces Chitoge to rethink her own plans.
THE LOWDOWN:
The Nisekoi: False Love manga is coming to a conclusion. Now, some characters will be forced to deal with the fact that they are part of a love triangle, and that melodrama-comedy will be good news for readers.
Nisekoi: False Love Graphic Novel Volume 24
is clever in that it maintains its comic edge and humorous bent, even as the focus narrows in on the romantic pairings that will yield a conclusion to the series. Creator
Naoshi Komi
has offered many wonderful supporting characters, so the narrative continues to offer variety via its subplots. The result is a manga that rarely delivers false reading pleasure.
I READS YOU RECOMMENDS:
Readers looking for a shonen comedy doing shojo love will want to try the Shonen Jump title,
Nisekoi: False Love
.
A
9 out of 10
Last Updated: February 5, 2023 - 09:06