Nisekoi: False Love Volume 23 manga review
By Leroy Douresseaux
January 21, 2018 - 23:57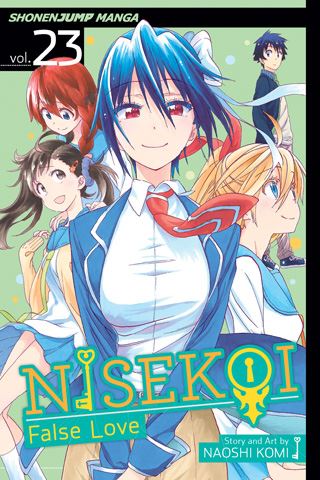 Nisekoi Graphic Novel Volume 23 cover image
Rated "T" for "Teen"
Raku Ichijo
and
Chitoge Kirisaki
are enemies, and their fathers are the heads of rival yakuza syndicates. In order to keep a gang war from starting, Ichijo (
Shuei-Gumi
) and Kirisaki (
Beehive
) act as if they are a teen couple in love. In fact, Ichijo is also searching for his childhood sweetheart, and wears a pendant lock around his neck, a memento of the promise he made to a mystery girl 10 years ago. Chitoge is one of four young ladies who could be the mystery girl.
Nisekoi: False Love

, Vol. 23
(subtitled
One Day
– Chapters 198 to 207) opens in the aftermath of a disastrous date for Raku and Chitoge. Now, they cannot seem to stop meeting. Everywhere one wants to go, so does the other. Forced to resume their date, Raku and Chitoge will also be forced to confront their true feelings.
THE LOWDOWN:
Being behind in my reading, I had not recently experienced the joy of the Nisekoi: False Love manga. This episodic comedy puts a nice spin on mafia romance and high school romance with delightful situations and engaging story arcs.
Nisekoi: False Love Graphic Novel Volume 23
, however, is an example of something that I noticed early in the series. Creator
Naoshi Komi
has created so many wonderful supporting characters, and that allows him to explore the themes and comic situations of the series outside the main characters. In fact, this volume has two mini-story arcs featuring supporting female characters that also love Raku Ichijo. And the series does not miss a beat. Vol. 23 is as wonderful a read as ever.
I READS YOU RECOMMENDS:
Readers looking for a shonen manga doing shojo love will want to try the Shonen Jump title,
Nisekoi: False Love
.
A
8.5 out of 10
Rating: 8.5 /10
Last Updated: February 5, 2023 - 09:06