Nisekoi: Volume 19 manga review
By Leroy Douresseaux
January 24, 2017 - 21:16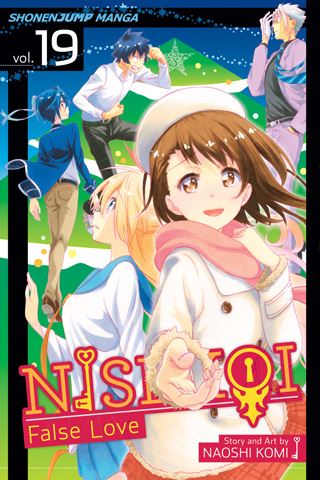 Nisekoi Volume 19 cover image
Rated "T" for "Teen"
Raku Ichijo
and
Chitoge Kirisaki
don't like each other. Their fathers are the heads of yakuza syndicates, so in order to keep a gang war from starting, Ichijo (
Shuei-Gumi
) and
Kirisaki
(Beehive) act as if they are a loving teen couple. In fact, Ichijo is also searching for his childhood sweetheart, and wears a pendant lock around his neck, a memento of the promise he made to a mystery girl 10 years ago. Chitoge is one of four young ladies who could be the mystery girl.
Nisekoi: False Love

, Vol. 19
(subtitled
Decision
– Chapters 162 to 170) opens with Raku successful in his mission to keep Chitoge in Japan. Now, what? Meanwhile,
Kosaki Onodera
, Raku's true love, has found an old children's picture book that may answer the question of to whom did Raku pledge his love. Also meanwhile, Kosaki's younger sister,
Haru
, has found a way for Raku and Kosaki to spend Christmas together.
THE LOWDOWN:
Dear reader, I don't know if I have ever told you, in my previous reviews, of a special bonus in each volume of the Nisekoi: False Love manga. Each edition contains a few pages of pencil art from an upcoming chapter. In fact, pages of pencil art, pencil spot illustrations, and details of pencil art are spread throughout each graphic novel edition of Nisekoi
Nisekoi: False Love Volume 19
has pencil art, too, but the best thing about this series is the ongoing narrative, which does more than just chug along. Creator Naoshi Komi ingeniously keeps this series hopping with new twists and turns – such as the "romantic kidnapping" story line that occurs in this volume.
Call me sentimental, but I loved the Christmas story in Vol. 19. I am embarrassed to admit that I look forward to Christmas plots and subplots in shojo manga, so much so that I can even enjoy them in the summer. In this case, shonen does shojo Christmas quite well. Seriously, after nineteen volumes of quality, Nisekoi has earned its readers' loyalty and the notice of new readers. Nothing about it is is false.
I READS YOU RECOMMENDS:
Readers looking for a shonen manga doing shojo love will want to try the Shonen Jump title,
Nisekoi: False Love
.
A
Rating: A /10
Last Updated: February 5, 2023 - 09:06