Nisekoi: Volume 17 manga review
By Leroy Douresseaux
September 17, 2016 - 19:17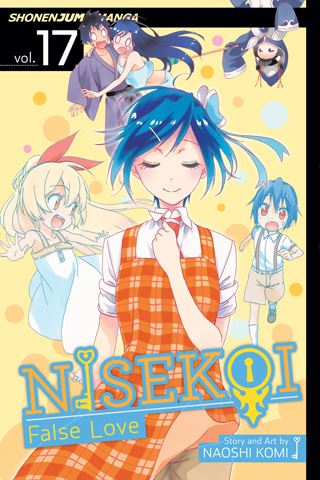 Nisekoi Volume 17 cover image
Rated "T" for "Teen"
It is true that
Raku Ichijo
and
Chitoge Kirisaki
don't like each other, but they have been forced into a sham relationship. Their fathers are the heads of yakuza syndicates, so in order to keep a gang war from starting, Ichijo and Kirisaki act as if they are a loving teen couple. In fact, Ichijo is also searching for his childhood sweetheart. He wears a pendant lock around his neck as a memento of the promise he made to a mystery girl 10 years ago. Chitoge is one of four young ladies who could be the mystery girl.
Nisekoi: False Love

, Vol. 17
(subtitled
Mistress
– Chapters 144 to 152) opens with Ichijo and
Kosaki Onodera
forced to spend the night in the same room at an inn owned by Onodera's aunt. No big deal, right? They do want to be with one another?
Yui Kanakura
was once Ichijo's childhood friend. Now, she is a music teacher at his school and also the don of a Chinese mob! Circumstances have put them in the same house – Ichijo's family home, and Yui's bodyguard,
Night
, reveals some truths about Yui of which Ichijo was not aware. Plus, the class trip to Kyoto becomes a disaster for two students, or is it really a disaster?
THE LOWDOWN:
The
Nisekoi: False Love
manga has a simple premise: a yakuza prince and princess forced into a sham relationship to stave off a gang war. Creator
Naoshi Komi
makes the most of it, deftly generating a seemingly endless stream of clever one-off situation comedy scenarios.
Nisekoi: False Love Volume 17
finds Komi taking familiar characters and spinning a series of clever comical situations. Komi even creates a rom-com adventure via the school trip. I am always surprised by how
Nisekoi
manages to be a consistently entertaining read. Sometimes, I think the entire mystery of the pendant lock is a narrative sleight of hand. The real fun comes in the form of an ensemble comedy.
POSSIBLE AUDIENCE:
Readers looking for a shonen manga doing shojo love will want to try the Shonen Jump title,
Nisekoi: False Love
.
A
Rating: A /10
Last Updated: January 24, 2022 - 11:00