Nisekoi: Volume 16 manga review
By Leroy Douresseaux
July 25, 2016 - 11:10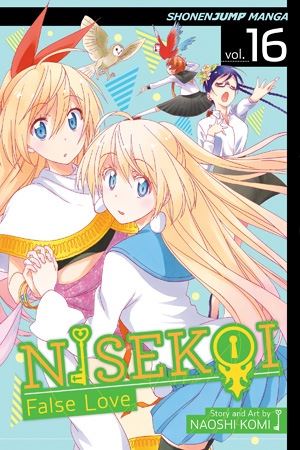 Nisekoi Volume 16 cover image
Rated "T" for "Teen"
Raku Ichijo
and
Chitoge Kirisaki
don't like each other, but they have to pretend to be in love, having been forced into a sham relationship. Their fathers are the heads of yakuza syndicates, so in order to keep a gang war from starting, high school students Ichijo and Kirisaki act as if they are a loving teen couple. In fact, Ichijo is also searching for his childhood sweetheart. He wears a pendant lock around his neck as a memento of the promise he made to a mystery girl 10 years ago. Chitoge is one of four young ladies who could be the mystery girl.
Nisekoi: False Love

, Vol. 16
(subtitled
Look-Alike
– Chapters 135 to 143) opens with a dilemma that should not be a dilemma. Music teacher
Yui Kanakura
is asked to sing at a school assembly. The problem is that her singing voice is a knockout that makes the students faint... or worse.
Raku and Chitoge meet the princess from the Kingdom of Nonbiiri. The shocker is that
Princess Malusha Lu Viey Nonbiiri
looks just like Chitoge. Now, the trio works on a way to allow the Princess to really see Japan, but these young people's plot may be foiled.
THE LOWDOWN:
The
Nisekoi: False Love
manga continues to run on its simple premise: a yakuza prince and princess forced into a sham relationship to stave off a gang war. All the while, creator
Naoshi Komi
deftly generates a seemingly endless stream of clever one-off situation comedy scenarios.
Nisekoi: False Love Volume 16
is one of my favorite volumes. Komi gives new life to the identical strangers plot. I loved it, and I hope the Princess Nonbiiri returns. One of my favorite shojo manga plots is the one in which schoolmates or love interests head off to a resort of some type for a vacation or, as is the case here, a working vacation. Komi shows that this ensemble plot works quite well in any genre of manga, including shonen manga with a shojo touch. In fact, that resort situation ends in a delightful cliffhanger that may get Raku closer to the girl he really loves.
POSSIBLE AUDIENCE:
Readers looking for a shonen manga doing shojo love will want to try the Shonen Jump title,
Nisekoi: False Love
.
A
Rating: A /10
Last Updated: August 31, 2023 - 08:12