Nisekoi: False Love Volume 11 manga review
By Leroy Douresseaux
September 3, 2015 - 22:10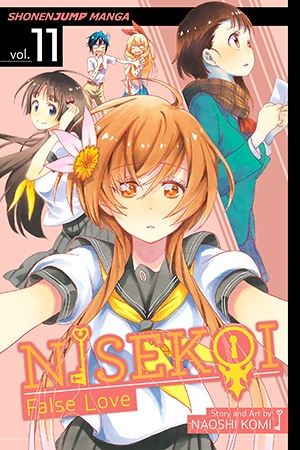 Nisekoi Volume 11 cover image is courtesy of barnesandnoble.com.
Rated "T" for "Teen"

Although high school students,
Raku Ichijo
and
Chitoge Kirisaki
, don't like each other, they have to pretend to be in love, having been forced into a sham relationship. Their fathers are the heads of yakuza syndicates, so in order to keep a gang war from starting, Ichijo and Kirisaki act as if they are a loving teen couple. In fact, Ichijo is also searching for his childhood sweetheart. He wears a pendant lock around his neck as a memento of the promise he made to a mystery girl 10 years ago. Chitoge is one of four young ladies who could be the mystery girl.
As
Nisekoi: False Love

, Vol. 11
(subtitled
Bouquet
– Chapters 90 to 98) opens, Raku, Chitoge, and the rest of the gang are confronted by a children's book, "
Zawsze in Love
." How does it connect to the girl with whom Raku once made a promise of love? That is a hard question to answer, as Raku is still suffering from a recent bout amnesia.
Marika Tachibana
is one girl who is crazy-in-love with Raku. Now, an old friend from her former high school has stopped by
Bonyari High School
for a one-day visit.
Mikage Shinohara
is loud, rude, crude, and country, and she wants to see Marika in romantic action with her boyfriend, Raku?!
[This volume includes bonus manga.]
THE LOWDOWN:
How long will the
Nisekoi: False Love
manga run on its premise, a yakuza prince and princess forced into a shame relationship to stave off war? Apparently, the series can run quite awhile on that premise... especially when the series has such a winning supporting cast.
Nisekoi: False Love Volume 11
makes me think that the series can run at least another 11 volumes. That is simply because creator
Naoshi Komi
can even create sparkling guest stars. Marika's friend, Mikage, is such a great character that I didn't want her to leave. Her arrival epitomizes how Nisekoi is a series of delightful high school and romantic situations that are true sitcom gold. Best of all, it is actually a series that is easy to embrace even if the reader were to start with Vol. 11.
POSSIBLE AUDIENCE:
Readers looking for a shonen manga doing shojo love will want to try the Shonen Jump title,
Nisekoi: False Love
.
Last Updated: August 31, 2023 - 08:12