Nisekoi: False Love Volume 10 manga review
By Leroy Douresseaux
July 13, 2015 - 12:03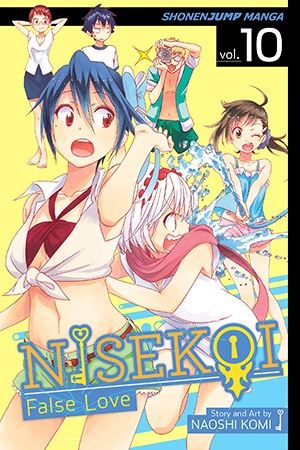 Nisekoi: False Love Volume 10 cover image
Rated "T" for "Teen"
High school students,
Raku Ichijo and Chitoge Kirisaki
, don't like each other, but they are dating. That is because the two teens have been forced into a sham relationship. Their fathers are the heads of yakuza syndicates, so in order to keep a gang war from starting, Ichijo and Kirisaki pretend to be a loving teen couple. In fact, Ichijo is also searching for his childhood sweetheart. He wears a pendant lock around his neck as a memento of the promise he made to a mystery girl 10 years ago. Chitoge is one of four young ladies who could be the mystery girl.
As
Nisekoi: False Love

, Vol. 10
(subtitled Shu's Crush – Chapters 81 to 89) opens, Raku is trying to enjoy a nice evening at a public bath – that is until his "girlfriends" decide to do the same thing at the same bath. Then, Raku discovers that his longtime friend,
Shu Maiko
, has a secret crush. Who is she?
Kosaki Ondera
, the girl whom Raku really loves, comes down with a cold. He is told that she has personally asked that he act as her caregiver, but there is more to that story, including Kosaki's younger sister, Haru. Then, it is Raku who gets a big health scare, and everyone is trying to help him – to no avail.
THE LOWDOWN:
The
Nisekoi: False Love
is a manga love story, but done in shonen (boy comics) style. The romance is real, and the series has lots of heart.
Nisekoi: False Love Volume 10
, however, is one of those volumes that shows the comic side of this series. I marvel how creator
Naoshi Komi
is constantly coming up with situations that he effectively turns into single-chapter comedy gold. When I first read this series, I thought that its premise would come across as a short-lived gimmick. Now, I think that it can run for a long time, fueled by genuine love and funny stuff.
POSSIBLE AUDIENCE:
Readers looking for a shonen manga doing shojo love will want to try
Nisekoi: False Love
.
Last Updated: January 24, 2022 - 11:00