Nisekoi: False Love Volume 9 manga review
By Leroy Douresseaux
May 3, 2015 - 20:21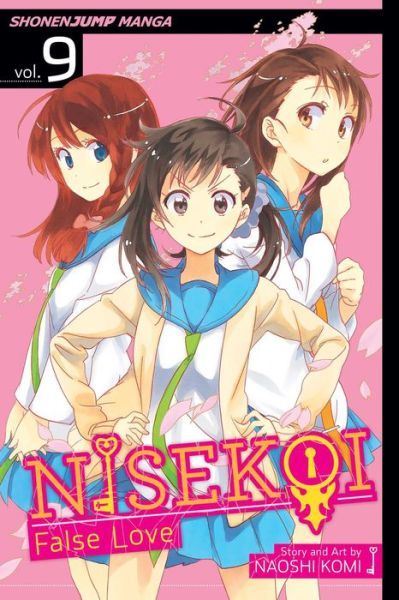 Nisekoi: Volume 9 cover image is courtesy of barnesandnoble.com.
Follow me on
Twitter
.
Rated "T" for "Teen"
Just because high school students,
Raku Ichijo
and
Chitoge Kirisaki
, don't like each other, does not mean that they can't date. Well, they are dating, but the two teens have been forced into a sham relationship. Their fathers are the heads of yakuza syndicates, so in order to keep a gang war from starting, Ichijo and Kirisaki pretend to be a loving teen couple. In fact, Ichijo is also searching for his childhood sweetheart. He wears a pendant lock around his neck as a memento of the promise he made to a mystery girl 10 years ago. Chitoge is one of four young ladies who could be the mystery girl.
As
Nisekoi: False Love

, Vol. 9
(subtitled Kamikaze – Chapters 72 to 80) opens, it's "Race Day" at
Bonyari High School
. When the students of
Class 1-C
show little interest in the race, the teacher decides to spice things up. She declares that the winner of the boys' race will get to kiss the girl of his choice. Of course, the boys are excited, but they are determined that Ichijo not win, since he already has too many girls interested in him.
Ichijo and friends are now second year students. Ichijo has a crush on
Kosaki Onodera
, and she has one on him. However, her sister,
Haru
, is a new first-year student, and she decides to put an end to any chance of love between her big sis and Ichijo.
THE LOWDOWN:
Although it is about a false love, the
Nisekoi: False Love
manga is mostly about real love and romance. I thought that creator,
Naoshi Komi
, would have run out of ideas long ago, but he consistently generates sparkling comedy filled with innuendo, clever sight gags, and friendship.
Nisekoi: False Love Volume 9
is a kind of turning point in the series. The lead characters become second-year high school students. A new character makes a strong entrance, and a throwaway character proves that she is not to be thrown away. And
Nisekoi
proves that it shouldn't be pushed away from readers who want high school romance that is something different but always good.
POSSIBLE AUDIENCE:
Readers looking for a shonen manga doing shojo love will want to try
Nisekoi: False Love
.
Last Updated: August 31, 2023 - 08:12