Nisekoi: False Love Volume 8 manga review
By Leroy Douresseaux
March 5, 2015 - 20:35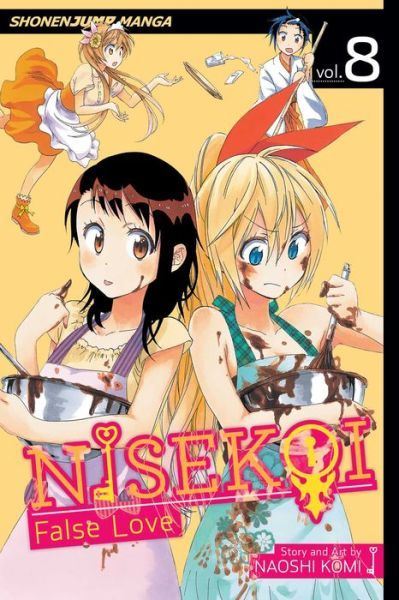 Nisekoi Volume 8 cover image is courtesy of barnesandnoble.com.
Follow me on
Twitter
.
Rated "T" for "Teen"
High school students,
Raku Ichijo
and
Chitoge Kirisaki
, don't like each other, but are forced into a sham relationship. Their fathers are the heads of yakuza syndicates, so in order to keep a gang war from starting, Ichijo and Kirisaki pretend to be a loving teen couple. In fact, Ichijo is also searching for his childhood sweetheart. He wears a pendant lock around his neck as a memento of the promise he made to a mystery girl 10 years ago. Chitoge is one of four young ladies who could be the mystery girl.
Nisekoi: False Love

, Vol. 8
(subtitled
Last Minute
– Chapters 63 to 71) opens in the aftermath of the holiday visit to Japan by Chitoge's mother, the fearsome and dominating Hana a/k/a "Madame Flower." Now, Raku and Chitoge are invited to a Christmas party, but upon arriving, they discover that their friends are acting mighty strange.
Next, a New Year's Eve party turns into a bout of drunken love. After a whirlwind winter break, everyone returns to school for the battle of changing desks. Soon, it's
Valentine's Day
, and in Japan, girls give chocolates to boys. Raku has never received chocolates from a girl, and hopes that this year, one girl will finally give him some. If only he knew what is ahead of him...
THE LOWDOWN:
Although it is about a false love, the
Nisekoi: False Love
manga often offers single-chapter episodes. It is the manga equivalent of a television situation comedy.
Nisekoi: False Love Volume 8
is all sitcom, and it is quite enjoyable.
At this point in the series, creator
Naoshi Komi
is at full-strength. The cast is solid and the well of genuine humor never seems to run dry. It make me wonder how long this series can keep going. When will the misunderstandings, misdirection, and missed opportunities stop being funny?
POSSIBLE AUDIENCE:
Readers looking for offbeat shonen love will want to try
Nisekoi: False Love
.
Rating: A- /10
Last Updated: January 24, 2022 - 11:00