Nisekoi: False Love Volume 3 manga review
By Leroy Douresseaux
May 21, 2014 - 16:57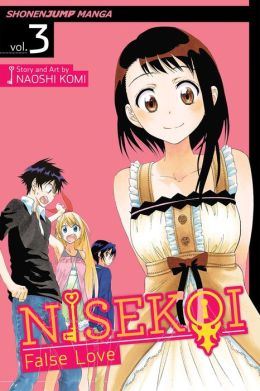 Nisekoi: False Love Volume 3 cover image is courtesy of barnesandnoble.com.
Follow me on Twitter.
Rated "T" for "Teen"
Raku Ichijo and Chitoge Kirisaki are two high school students who are forced into a sham relationship because of their fathers. Ichijo's father leads the yakuza syndicate, Shuei-Gumi. Kirisaki was also born into a yakuza family, and her father leads the Beehive gang. To stop a gang war, Ichijo and Kirisaki pretend to be a couple, although they cannot stand each other. In fact, Ichijo is searching for his childhood sweetheart. He wears a pendant lock around his neck as a memento of the promise he made to a mystery girl 10 years ago.
Nisekoi: False Love, Vol. 3 (subtitled What's in a Name? – Chapters 17 to 25) finds Raku with even more girl trouble. First, he accidentally ends up in an uncomfortable situation with Seishiro Tsugumi, the teen bodyguard dedicated to protecting Chitoge. But Seishiro has a shocking secret… and an even more shocking crush.
Meanwhile, Kosaki Onodera, the girl that Raku really loves and who may be the "pendant lock girl," is trying to find the willpower to approach Raku. Her friend and classmate, Ruri Miyamoto, connives to find different ways to get them together during a school trip. Also, Chitoge also seems to have made some kind of promise.
THE LOWDOWN: The Nisekoi: False Love manga takes elements from a few genres. It is a yakuza comedy without the explicit violence; rather, it has a cartoonish version of physical violence and gunplay. It is also one of those randy, fanservice shonen manga (like Strawberry 100%) that are about teen love, but not so much about romance.
However, creator Naoshi Komi makes Nisekoi about romance and romantic feelings. That has never been more obvious in this series than in Nisekoi: False Love Volume 3. You could not really mistake this for a high school shojo romance aimed at young female readers, but I'm sure some girls will like Nisekoi, because it's really good.
The characters make Nisekoi: False Love such an enjoyable read. I like all of them. I wish I could get more of them. Each is unique, with his or her own conflicts and desires outside the central plot. I can't wait to read Nisekoi again, and I certainly did not think I would feel this way after reading Vol. 1.
POSSIBLE AUDIENCE: Readers looking for offbeat shonen love will want to try Nisekoi: False Love.
Rating: A /10
Last Updated: August 31, 2023 - 08:12