Nintendo Hosts E3 Review In Toronto
By Eli Green
August 26, 2008 - 23:59
Nintendo of Canada invited us to a special downtown Toronto location today to check out a number of the games first shown off at E3 2008. Not having had the chance to go to E3 this year ourselves, this was a great opportunity for us to finally go hands-on with a number of titles we had only been able to see via webcast. We weren't completely sure which titles to expect, as there were quite a few shown at Nintendo's media briefing this year, and a number that were only shown on the show floor, but we had a basic idea. We could naturally assume that Wii Music would be shown, as well as Animal Crossing: City Folk and Mario Super Sluggers , even though the latter had been kept under the radar for the past few months. Aside from those, and the guess that we might see NHL 2K9 , we weren't really sure what to expect.
Having only an hour to view all of the games available today, Nintendo let us, and the other members of the press there during that hour, select from a specific "menu" of titles. The selection ended up being Shaun White Snowboarding , Animal Crossing: City Folk , Wii Music , Star Wars The Clone Wars – Lightsaber Duels, Wario Land: Shake It and Mario Super Sluggers . We got out-voted on NHL 2K9 . Other games we didn't get the chance to test our hands at were Rayman Raving Rabbids TV Party and Kirby Super Star Ultra, Mystery Case Files, Personal Trainer – Cooking and Pokémon Ranger: Shadows of Almia for Nintendo DS.
Shaun White Snowboarding
Shaun White Snowboarding
for Wii is very much a graphically toned-down, casual version of this new franchise, compared to the Xbox 360 and Playstation 3 version. Playing with the Wii Balance Board gives players the chance to actually have the physical experience of an arcade snowboarding game right in their own homes. Once shown how to properly use the Balance Board to control my rider, I was able to get the hang of things and rack up decent scores in about five minutes, which is relatively quickly, especially if you consider the fact that I didn't go through any of the game's tutorials, unless you count a quick demonstration and one of the game's developers telling me how to improve my control on the spot, while I was playing.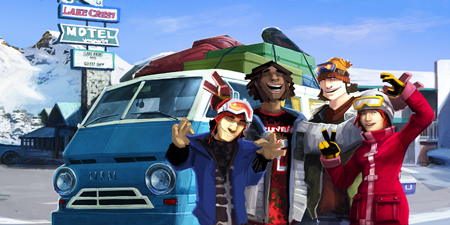 I enjoy snowboarding video games, so the chance to get to play a new franchise is very exciting. I got to look at the Xbox 360 version last week and was thoroughly impressed by it, so I was looking forward to getting my hands on the Wii version. I'm glad to say I was not disappointed. Controls will certainly take some getting used to when playing with the Balance Board, but it was clear that, for the short while I played, I could have been stringing together some large combo moves with a little more practice.
This is a game I'll be waiting for when it launches in November.
Animal Crossing: City Folk
I am certainly not a fan of the Animal Crossing franchise. Don't get me wrong. It's not that I don't like the game or its open-ended, real clock concept, I just don't have the time to play games like that anymore. It's the very reason I stopped playing games like The Sims . I'm sure that if were to start playing a game like Animal Crossing , I would get into it. But therein lies the problem, especially since Nintendo is introducing the new Wii Speak ambient microphone, for up to four players connected online simultaneously. Sure, just give me another reason to never leave my house.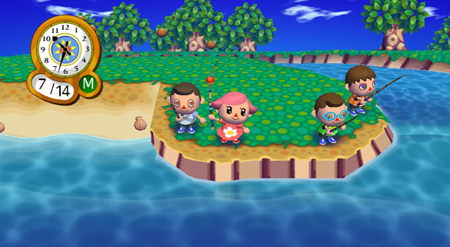 For those players out there who do like the absolutely open-ended gameplay available in the Animal Crossing franchise, you're going to love City Folk . The game doesn't just include your own little village area this time round. There is an entire city centre where your character can meet all of the interesting and eccentric characters they might only meet in your village from time to time. Also, there are all kinds activities to do in the city, and customization options throughout the game.
We didn't get the chance to check out the online play mode, so we can't vouch for the quality of the Wii Speak microphone or the quality of the connection.
Animal Crossing: City Folk
is set to launch in November. I don't plan to pick up the game, but as I said, if you're into the absolutely open-ended gameplay available in similar games, it will be one you'll want to get for yourself.
Wii Music
I've played quite a few music rhythm games over the past two years – Guitar Hero , Rock Band , Frequency – and Wii Music is unlike any of them. Unfortunately, that isn't necessarily a good thing. I had already seen the Wii Music demo from Nintendo's E3 2008 media briefing and was not very impressed. After hearing about other journalist's hands-on impressions from E3, my expectations for the game, actually considered to be more of an "experience" than a game, dropped even lower.
If you've seen video of Wii Music in action then you probably already know how the gameplay mechanics work, but just in case you haven't, let me explain. Unlike music rhythm games, such as the ones I mentioned above, Wii Music doesn't have a note track that tells you what button to press and when. Instead, you have to know the song and play to the rhythm of your instruments part. If you're playing a wind instrument, you hold the Wii Remote close to your mouth and press the one and two button. With percussion instruments, you use the Wii Remote and Nunchuck like drum sticks and swing them in the air to the beat. This also applies to key instruments like the piano. String instruments are also played with the Wii Remote and Nunchuck, except that you have to hold the Nunchuck in the air while strumming with the Wii Remote. There are 60 instruments to choose from in all.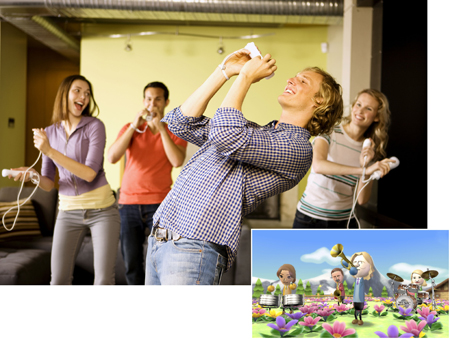 The only real challenge for players in Wii Music is actually making the songs sound good. If you and your friends have poor rhythm, the sound will be horrible, much like the sound from the Nintendo team members from the media briefing. If you've got some rhythm and you know the song you're playing it sounds considerably better, and you'll see what I mean once we get our video of the instrument selection area online.
Overall, I'm still not very excited by Wii Music. It does have the benefit of having a few different modes, including the conductor mode Shigeru Miyamoto showed off at Nintendo's media briefing for E3 2006 and the drum kit mode demonstrated by Ravi Drums at this year's media briefing, but those just don't look like they will magically turn such a basic experience into something great. I still think the game will be wildly popular, as it will essentially finish off people's Wii (insert name here) title collection, which included Sports , Play and Fit , but that doesn't make it right. I will say this though. It's cool that, with a game like this, you can play any instrument and the only skill you need to have is rhythm. It will definitely be something that kids will enjoy when it launches in November.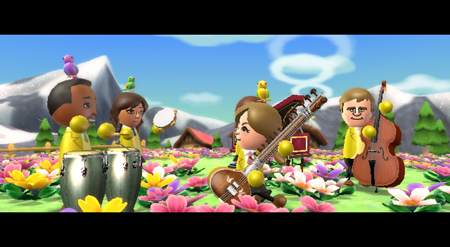 I've got one final thing to clear thing up, specifically for those of you who watched the media briefing and were wondering how Ravi Drums was able to play his drum beat with the final jam session the four Nintendo team members were already playing in. You were probably wondering, as was I, how a four player game could accommodate a fifth player. Well, I asked Nintendo of Canada's Matt Ryan about it today, and he explained that Ravi was actually playing his beat, in sync with the Nintendo team members, from a different Wii. Simple, but something that should have been clarified on stage.
Star Wars The Clone Wars – Lightsaber Duels
Finally, a Wii game that lets players use the Wii Remote and Nunchuck to wield lightsabers! Well, don't expect too much from it, or you might be disappointed. This is a fighting game based around the recent animated feature film. Most of the attacks are combo based, so the better your combos, the better your attacks. Overall, it's similar to other fighting games, except you've got force powers, lightsabers and you're using the Wii Remote and Nunchuck to control it all.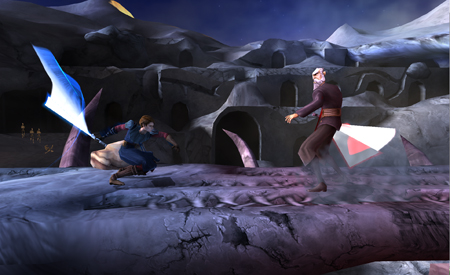 We only checked out the multiplayer mode, so I couldn't tell you much about how solo play is. It is fun to watch other people play though. It's also nice to see that Lucasarts took the time to make sure that when players want to pull off moves, they must make the appropriate motions, and not just flail about. The graphics appeared to be lower quality versions of what you'd see in the film, but I'm not expecting high definition graphics from Wii. I think that the development team could still push the graphics a little further, but it's not a must.
Lightsaber Duels also launches in November.
Wario Land: Shake It
What can you say about Wario? He's greedy. He's fat. He's pretty gross. He's also coming to Wii in a 2D side-scroller that will have him literally shaking things up around him. This cartoony take on Wario brings back a lot of memories of classic 2D side-scrolling video games while incorporating some cool Wii motion controls. I fell in love with this game instantly and I can't wait to play it through.
The game includes a lot of great animations, plenty of places to explore, a number of cool powers, including his butt smash, a Sonic the Hedgehog styled pipe-launcher and more that we didn't even get to see today. We didn't get a lot of time with the game, as we were already nearing the end of our session and still hadn't gotten to see Mario Super Sluggers yet, but this will definitely be a game for people looking to get into, or rekindle their love affair with side-scrollers. It launches on September 22 nd .
Mario Super Sluggers
Nintendo has essentially been keeping this game under the radar since the initial announcement that it was coming some time this year. So we were a little surprised to find out that it's launching tomorrow. I truly don't think that there is much to say about this game. It's another Mario styled arcade sports game – baseball this time – featuring power ups, ways to mess up your opponents and give yourself an edge, and crazy fun, frantic gameplay. It also includes motion sensitive pitching and batting. If you're not familiar with Mario styled arcade sports games you might want to give it a rent before diving in for a full purchase, but if you're already into the previous titles, like Strikers, I doubt there would be much I could say to deter you from purchasing this game. Not that I'm going to try to.
Those are all the titles we had the time to see today. We'll be looking forward to your comments and questions, and be sure to check out the videos once we have them online.
Last Updated: September 6, 2021 - 08:15