Ninja Girls: Volume 1
By Leroy Douresseaux
September 3, 2009 - 14:41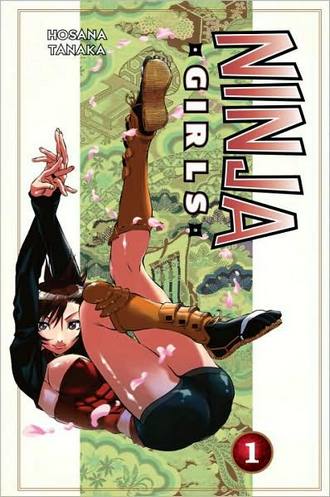 Ninja Girls Volume 1 cover image is courtesy of barnesandnoble.com.
Rating "OT" for "Ages 16+"
There is a horn growing from Raizō's forehead. That horn marks him as a member of the Katana family. Actually, Raizō is the lost, illegitimate son of the most recent feudal lord of the Katana family, who apparently committed suicide. The horn (which is short and stubby and looks like a big pointed tooth) made Raizō an outcast among the villagers where he and his late mother lived, but suddenly a band of loyal and sexy female ninja have come together to protect Raizō, their new master. They're scheming to elevate his status and to return the Katana family to greatness.
In Ninja Girls, Vol. 1, Raizō meets the first of the ninja who serve the Katana family. The lovely Kagari is a brilliant fighter, but she can only unleash her special technique, Iga-Ninpo Shintaigo, when her master is watching her… looking at her voluptuous body. Not long after, the second and third of the four female ninja who will serve Raizō arrive. The second is a gun-toting hellion, and the third wants to give Raizō her body… which isn't what it appears to be upon first glance.
THE LOWDOWN: Set during the Sengoku Era (the era of the warring states; roughly mid-15th to early 17th century), Ninja Girls is a comedy grounded in martial arts and bickering romance. Although there are female characters and romance, Ninja Girls, at least this early in the series, is thoroughly shonen manga (comics for teen boys). Creator Hosana Tanaka fills the pages with either comic violence that is brutal and bloody or innuendo defined by female ninja (kunoichi) in some state of undress. In tone, Ninja Girls is similar to Strawberry 100%, and in the battle of exposed boobs and bottoms, Ninja Girls wins.
POSSIBLE AUDIENCE: Readers who enjoy both ninja and innuendo will enjoy Ninja Girls. Oh, that's me!
B+
Last Updated: January 24, 2022 - 11:00