Comics / Comic Reviews / More Comics
The Adventures of Nikki Harris the Cybermation Witch #6
By Leroy Douresseaux
Mar 3, 2015 - 20:41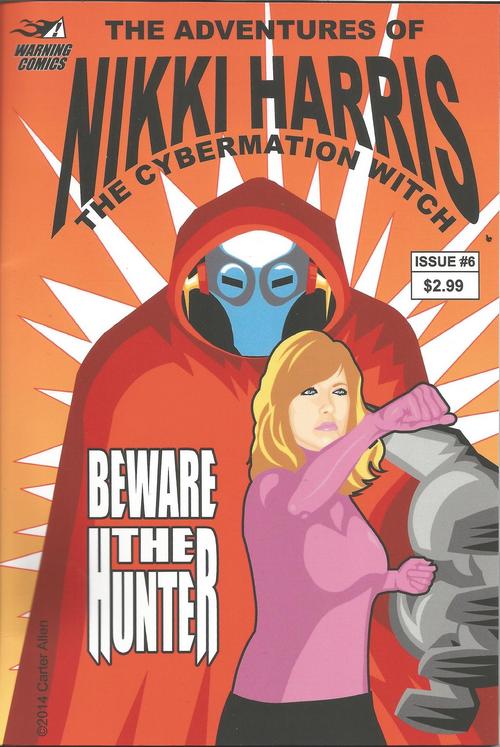 The Adventures of Nikki Harris the Cybermation Witch #6 cover image
Follow me on
Twitter
.
Comic book's top space opera heroine is back.
Nikki Harris the Cybermation Witch
returns with a new issue of her comic book for the first time since 2013. This return, however, could mean the end for the woman who is the bane of every Voyd's existence.
As
The Adventures of Nikki Harris the Cybermation Witch

#6
("Attack of the Hunter") opens, Nikki returns to Earth. In her last adventure, she stopped Nautilie's machinations on the planet, Qua. There is no rest for the weary, however, as a mysterious nemesis has sought the services of an assassin to kill Nikki. Our heroine could use a break and a pick-me-up, but
Tile the Hunter
strikes hard at Nikki. And for the first time, Nikki looks like she may not come out on top.
THE LOWDOWN:
After two years,
The Adventures of Nikki Harris the Cybermation Witch
the comic book makes a welcomed return. Writer-artist Carter Allen's digitally-produced, full color comic book is always a fun read. I wish it was published with more frequency. The series is ready to make its next big step into the consciousness of the comic book reading public.
One of the things about superhero comic books is that the reader wants to believe in the peril that his or her favorite hero faces is real, although we know that, in the end, the hero will survive. As I read issue six, I believed that Tile the Hunter could be the end of Nikki Harris. Bravo! I am glad that Tile is, one on one, more than a match for Nikki. After the first five issues, it is good to see that #6 is the beginning of a new and more dangerous era for Nikki. Now, is a good time for new readers to start loving her.
POSSIBLE AUDIENCE:
Fans of Nikki and of science fiction and superhero humor comics will want to join
The Adventures of Nikki Harris the Cybermation Witch
.
http://candlelightpress.tumblr.com/
www.nikkithewitch.com
www.warningcomics.com
Rating: A /10
Last Updated: Jun 26, 2018 - 9:28