Comics / Manga / Yaoi Manga
NightS yaoi manga review
By Leroy Douresseaux
January 31, 2014 - 11:23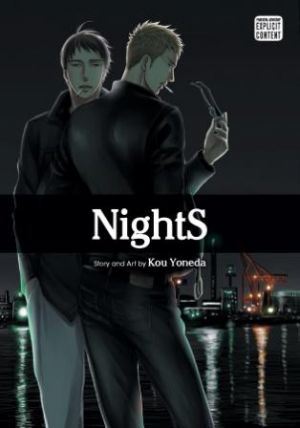 NightS yaoi manga cover image
Rated "M" for "Mature"
NightS is a collection of yaoi stories from popular yaoi creator, Kou Yoneda. Yaoi manga is a subset of boys' love (BL) manga that depicts sex between male characters, and sometimes those depictions are explicit.
NightS focuses on three couples. In the title story, "NightS," 28-year-old Masato Karashima is a "transporter," a man paid to smuggle anything from drugs to guns to people. He is approached by Masaki Hozumi, a yakuza lieutenant who needs something transported. Masato finds himself attracted to the older man, and so begins a cat-and-mouse game of lust and deception. In this business transaction, no one is telling the entire truth about anything.
In "Emotion Spectrum," high school student Kugo agrees to play wing man to Usui, a fellow student who is attracted to Kugo's flighty friend, Nakaya. Results are unexpected. In the two-part, "Reply," shy mechanic, Seki, finds himself at odds with the salesmen at the auto dealership where he works. Then, he meets the emotionally-reserved, matter-of-fact salesman, Keigo Takami, who is outstanding as a car salesman. They like each other, but perhaps, not in the same way.
THE LOWDOWN: Obviously, a yaoi short story collection gives readers several stories to read, and if they are lucky, at least two couples trying to come together romantically. The NightS yaoi manga offers seven stories of varying lengths, and best of all, three couples working towards a romantic conclusion... and some sex scenes.
I didn't find the stars of the "NightS" short story particularly interesting because of the awkward execution of the story. However, the material – too much deceit, too much crime, and the stars seem doomed as a couple – was there to make this an especially good story. Kou Yoneda just didn't make it happen.
"Emotion Spectrum" is the same: good idea that does not fully flower. The deceit is fluffy, and it's a crime that the romance comes across as syrupy as a bubblegum pop song. This couple may not be doomed, but they are destined to be uninteresting.
Luckily, "Reply" offers a more attractive couple and is an excellent read. The romance is filled with captivating pitfalls, and the conceit: two guys who may be too different to be successful as a couple: works. Because the romance is strong, I simply found myself rooting for these guys. Keiko and Seki are the one couple in this collection that I'd like to see again.
POSSIBLE AUDIENCE: Yaoi readers who want variety in their boys' love manga will find pleasure in these NightS.
Rating: B+ /10
Last Updated: September 6, 2021 - 08:15