Archaia preview: Fraggle Rock Vol. 2 #1, Cyclops #2, Lucid #3
By The Editor
January 18, 2011 - 04:34
FRAGGLE ROCK VOL. 2 #1 (of 3)
Retail Price: $3.95 U.S.
Page Count: 32 pages
Format: saddle bound, 8" x 8", full color
On-sale Date: Jan. 19, 2011
Written by Grace Randolph, Jake Forbes and Joe LeFavi
Illustrated by Chris Lie, Mark Simmons, Cory Godbey and Katie Cook
Covers by David Petersen and Chris Lie (50/50 split)

Get ready to rock—Fraggle style! Archaia and The Jim Henson Company follow up their highly acclaimed

FRAGGLE ROCK

anthology series with a brand-new line of comics, featuring the antics of Gobo, Mokey, Wembley, Boober and Red! Worry is indeed for another day, as this new series features a stellar lineup of talent, including: Grace Randolph (

MUPPET PETER PAN, MARVEL HER-OES

), Chris Lie (

RETURN TO LABYRINTH

), Jake Forbes (

RETURN TO LABYRINTH

) and Ross Campbell (

WET MOON, SHADOWEYES

)! Featuring a cover from

MOUSE GUARD

's David Petersen and activity pages from fan-favorite Katie Cook!


CYCLOPS #2 (OF 8)
Retail Price: $3.95 U.S.
Page Count: 32 pages
Format: saddle bound, 6.625" x 10.25", full color
On-sale Date: Jan. 19, 2011
Written by Matz
Illustrated by Luc Jacamon
Cover by Luc Jacamon



2054

. Douglas Pistoia's job with Multicorps Security, Inc. has thrust him into the heat of combat. Danger is close and the enemy is faceless and everywhere. As millions watch the conflict on television, Douglas commits a singular act of bravery that changes his life forever. Caught between the duty of a soldier and the fame of a celebrity, which path will Douglas choose? More importantly, which will prove to be more dangerous? From the creators of the Eisner Award-nominated

THE KILLER

comes this sci-fi thriller that looks at the near future of war and the media



Mature Readers

(series contains Nudity, Graphic Violence and Adult Content)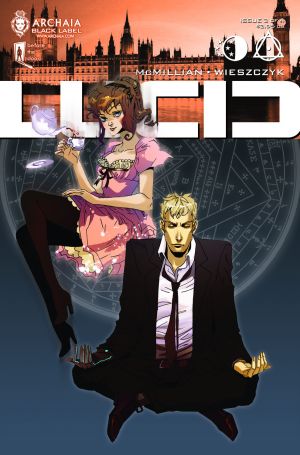 LUCID #3 (of 4)
Retail Price: $3.95 U.S.
Page Count: 24 pages
Format: saddle bound, 6.625" x 10.25", full color
On-sale Date: Jan. 19, 2011
Written by Michael McMillian
Illustrated by Anna Wieszczyk
Cover by Anna Wieszczyk



LUCID

barrels toward an explosive climax as Agent Dee is pulled deeper into a dark conspiracy fraught with bold, unbridled evil! After a dangerous Magical Artifact created by Matthew's infamous ancestor disappears from the archives of The School of Black, Matthew travels to London to team up with England's Combat Mage, the beautiful and enchanting Wren, to hunt it down before all Hell breaks loose.

LUCID

is Archaia's first title published in association with Zachary Quinto ("Heroes," "Star Trek") and his company, Before the Door.



T +13

(Contains material suitable for teen readers age 13 and above
Image Gallery:

Last Updated: September 6, 2021 - 08:15