The Return of Nexus and The Moth
By Steve Rude the Dude
November 16, 2006 - 12:29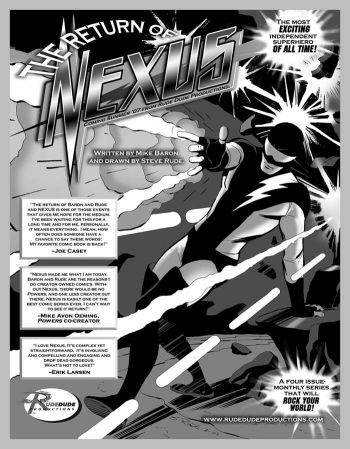 November 2006 Diamond Previews Ad
In a press release, famed comic book artist and painter, Steve Rude announced that his new company, Rude Dude Productions, LLC, would publish the return of his long-running comic book series, Nexus, as well as the further adventures of his new creation, The Moth.
Both series will be published in four-issue cycles with the first issue of Nexus scheduled to ship monthly beginning in July 2007. This will be the first new issue of the Nexus regular series in nearly 10 years. Rude Dude Productions also plans to release a "Nexus Special" for Free Comic Book Day 2007. Mike Baron, who co-created Nexus with Rude, will script the mini-series, with Rude penciling and Gary Martin inking. In the press release, Baron is quoted as saying that the new Nexus is the most intense thing he has ever written and he promises far-ranging repercussions for Horatio Hellpop and his world.
Following the four issue Nexus run, Rude Dude will publish Amazing Dude Tales, a 64-page anthology all drawn by Steve Rude and featuring such writers as Mike Baron, F. Paul Wilson, Heidi MacDonald, and Gary Martin. Following Amazing Dude Tales, The Moth begins its four-issue run. Rude Dude plans to release four new issues of Nexus and four new issues of The Moth annually.
Nexus, an award-winning (three Eisner Awards) combination of superhero comics and science fiction, first appeared in 1981, published by Capital Comics. It was the story of Horatio Hellpop, who as Nexus was a cosmic avenger driven by dreams of mass murder to seek out and kill mass murderers. After the demise of Capital, First Comics published the series for the rest of the 1980's. Dark Horse Comics took over in mid-1992 with the publication of Nexus: The Origin before finally canceling the title in late 1997 with the publication of Nexus: Nightmare in Blue #4 (Nexus Vol. 2 #98). Dark Horse has, however, recently released hardbound volumes collecting the first twenty-four issues of Nexus (Capital issues #1-3 and First issues Vol. 2 #1-21) in their "Archives" editions format.
The Moth, a more-traditional super hero comic, was created by Rude. Rude will pencil the book as before, and Gary Martin will write the series and ink Rude's pencils. The Moth follows the adventures of circus strong man Jack Mahoney and reviews have compared it to the early work of Steve Ditko and Jack Kirby. Dark Horse published a four-issue Moth series and a special during the first half of 2004 under their "Rocket Comics" imprint.

"The return of Baron and Rude and NEXUS is one of those events that gives me hope for the medium. I've been waiting for this for a long time and for me, personally, it means everything. I mean, how often does someone have a chance to say these words: My favorite comicbook is back!" --Joe Casey

"Nexus made me what I am today. Baron and Rude are the reasons I do creator owned comics. Without Nexus, there would be no Powers, and one less creator out there. Nexus is easily one of the best comic series ever, I can't wait to see it return!" --Mike Avon Oeming, Powers co-creator

For more info, visit steverude.com
Article edited and rewritten by Leroy Douresseaux.
Last Updated: February 5, 2023 - 09:06