Kade: Sun of Perdition #1
By Editor
October 6, 2006 - 18:31
In a year where comic fans have been asked what side they are on, much to Cap and Shellhead's dismay, a growing number of fans have answered Kade's. For the first time in since Ant #1, Arcana Studio is going back to press for Kade: Sun of Perdition #1.

After an enthusiastic release, Sean O'Reilly's Kade: Sun of Perdition #1 is going into its second printing. Debuting at the San Diego Comic Con and hitting shelves shortly after, the series is quickly becoming one of the hottest comics on the indie scene thanks in part to breathtaking art by Stjepan Sejic, who wowed fans earlier this month in the Darkness vs. Wolverine one shot from Top Cow Comics. When asked on the reason for the sellout and second printing, O'Reilly commented that the delays in some of the major summer titles definitely helped out indie publishers and Kade was one of a couple books where orders came in higher than expected, and reorders poured in, because of the delays.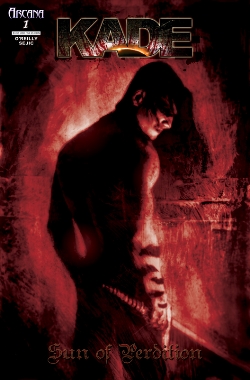 To commemorate the occasion, Ben Templesmith's variant which was only offered as a retailer incentive will get a new color scheme for the release and retailers and readers can now get a RED BEN TEMPLESMITH COVER. Future incentive covers for the series will showcase artwork from Liam Sharp, Nat Jones, and Ashley Wood.
Graham Crackers and Elfsar/Happy Harbor Comics are two retailers who ordered limited edition covers before the big sellout and both covers can be ordered online or at their stores.
Kade: Sun of Perdition is a four issue mini-series dealing with the balance between light and dark. During the Black Sun and under the Eye of God, angels may fall to Earth. These Fallen Angels leave the grace of God and act without consequence. Many try to spite their Creator by possessing the anemic spirits of those who are morally corrupt, using them as their demonic servants. As a Child of the Black Sun, Kade is the balance that tips the dark scale back towards the light, as he hunts the demons and The Fallen. Sun of Perdition is just one of many stories O'Reilly has in store for his timeless warrior. Shiva's Sun is the follow up series, where Kade will be pitted against the Fallen during the Golden Age of India. Stjepan Sejic will once again be manning the art chores.
Now that Kade is selling out comics, what's next for the gothic warrior? Arcana's flagship hero is set to headline a line of busts to be released in 2007. In addition, a handheld video game from Jump Games is in the works. Could Hollywood be just around the corner?
Last Updated: September 6, 2021 - 08:15