Cape! 2
By The Editor
May 12, 2006 - 22:03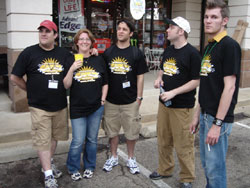 staff

CAPE! 2 - Comic and Pop-Culture Expo concluded with an amazing 6000+ people in attendance. It was a phenomenal day under the big top with some of the biggest names in comic books today. If you missed CAPE! this year, you missed one heck of a party.

People traveled from all over the country to attend CAPE! Over 60 guests were on hand including Bryan Hitch (Co-creator and artist of Marvel Comics' #1 selling title, The Ultimates), Gail Simone (Writer of DC Comics' Birds of Prey, Villains United and Marvel's Simspons), Andy Lee (Traditional Cha'an Buddhist splash-style comic artist) Marc Andreyko (Screenwriter for Miramax, Disney/Touchstone & writer of DC's Manhunter), Tony Bedard (Comic writer for Marvel's Exiles and former DC comics editor) and James O'Barr (Creator and artist of The Crow).

FanBoy Radio's Scott Hinze MC'ed the day with an excited pace. Attendees voted for the Fannies, FanBoy Radio's fan based awards show. Raffle prizes were given away including signed comics, one year memberships to Blockbuster Online, original art, movies passes to The DaVinci Code, X-Men: The Last Stand. Poseidon and tons of other great prizes. Pop Syndicate was on hand to give out free movie posters, t-shirts, buttons, stickers and other goodies.

Highlights included the incredible splash-style artist Andy Lee's speed painting, a masked wrestler who showed up to promote a new Jack Black film and roller girlz who came down to show off their skating skills.

CAPE!, in association with the City of Dallas's bestowed proclamation claiming May 6th as Comic Appreciation Day, helped promote children's literacy by showing kids an especially good time with the 500 free gift bags which included a "create your own superhero coloring page". The best pages to be displayed at Zeus Comics.

Later in the evening, FanBoy Radio presented the Live Art Show where artists created works of art to help raise funds for CAPE! 3. The Live Art Show artists inlcuded Andy Lee, James O'Barr, James Kochalka (of American Elf fame) and others who painted incredible works of art while the DJ blasted the hottest tunes and the crowds looked on and bid.

To see more about the events that took place at CAPE! 2 - Son of CAPE! go to http://www.zeuscomics.com/cape/media.php.

Last Updated: February 5, 2023 - 09:06