Power Girl Warrants Another Printing
By Hervé St.Louis
October 9, 2005 - 19:57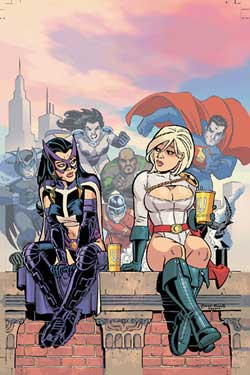 JSA Classified #3
Power Girl's origin continues to sellout issues of JSA Classified. Third printing of issues #2 and second prionting #3 are coming from DC Comics on October 19, 2005.
The new printings feature the stories written by Geoff Johns and illustrated by Amanda Conner & Jimmy Palmiotti. The new cover for #2 features interior art from that issue; the new cover to #3 features a new take on the original cover for this issue.
" Nobody 's more surprised at this than me, " says Conner. " I ' m stunned, really! And I ' m thrilled that we ' re able to do this. Thanks to everyone who ' s reading the book! "
Last Updated: September 6, 2021 - 08:15