Pixelized Web Comics
By The Editor
October 2, 2005 - 23:30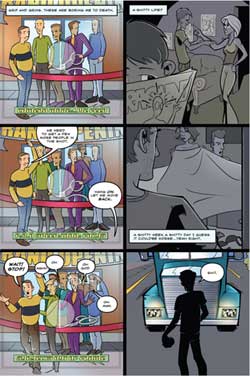 Husk
PixelStrips.com is a subscription-based comic community featuring the best horror, sci-fi, superhero, and manga comics online. Updated weekly, with new comics added all the time, PixelStrips.com is your one-stop-shop for online comic reading!
According to Kevin Volo, PixelStrips.com's creator, "With the cost of printing and shrinking distribution options creators are taking to the web. Artists can create and display art instantly, and reach a wide and diverse group of readers. PixelStrips has put together eclectic collections of stories and art styles that make it the most diverse webcomic site online. With work that ranges from the haunting horror comic, Melinda, to the hilarious Hambone, by Robert Ryan, we aim to open up the world of online comics to everyone."
"I wanted to have a mix of art and stories on the site. I wasn't just looking for the typical hero stuff, although we do have that, but I also wanted to bring in traditional Sunday comics, Manga, Sci-Fi, and good old fashion adventure serial stories. I'd love for people to go to the site because they love Manga, but end up getting hooked on something like Carnival of Cabbage, a hilarious look at office life," continued Volo.
Creators are side-stepping long established publishers and costly printing fees and are getting their work directly to the people using the web to display their comics and cartoons. "It's like blogging but with art," said Volo. "Creators can display their art online for the world to see with instant feedback. We are also seeing that the medium is starting to gain the respect it deserves with the addition of an Eisner award for webcomics and the fact that several online comics over the past few years have gotten print deals."
By subscribing to PixelStrips.com you have full access to the site and it's ever-growing archives. Another benefit is the "Extras" area featuring wallpapers, pinups, scripts, character/comic rough sketches, and subscriber only strips.
"I got the idea while watching a DVD for the extras area," said Volo. "I was going through the extras on one of the Lord of the Rings DVD's and was blown away at how much we didn't get to see in the movie, and how some things changed from the rough sketches to what we saw on screen. I realized that the same thing happens in comics. I have a folder of character sketches that show how the character was developed, as well as comic rough sketches. Why not share the development process with everyone?"
PixelStrips.com has an amazing talent pool of established artists like Winston Blakely, inker for Valiant Comics who worked on numerous titles such as Eternal Warrior, Ninjak, Bloodshot, Hardcops and Solar, Man of the Atom. PixelStrips.com is also the home of hot up-and-coming new talent like Victor Poon (BUREAU 13) Randy Gentile (NYcomix), and Husk's artist and colorist John Rauch who's the colorist for Transformers: Robots in Disguise and Snake Eyes: Declassified. In addition to the best online comics available, PixelStrips.com also features great articles, interviews, and discussions on the forums.
PixelStrips.com is owned by Kevin Volo. He is the colorist for FC9's Genie, Alias's Ted Noddleman: Bicycle Delivery Boy, and his own web comics Husk and Big Iron. Some of Volo's other work includes Image Comics' Noble Causes, Round Table of America, Invincible title, and numerous editions of Angel Gate Press's Black Tide.
Last Updated: February 5, 2023 - 09:06