Captain America Redesigned By Alex Ross
By Herve St-Louis
October 11, 2007 - 14:18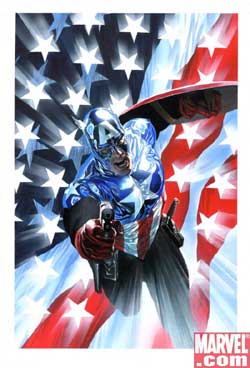 Alex Ross' cover to Captain America #34
Marvel Comics has designed a new Captain America costume to update the older one which had endured with but slight modifications since the Captain's creation in 1941 in
Captain America Comics #1
. This costume was designed by comic book painter Alex Ross, who first gained recognition through the 1994
Marvels
mini-series he illustrated. The new costume of Captain America will be introduced in
Captain America #34
in December 2007.
Ross is known as a classical artist who is often conservative in his renditions. Mostly, he likes to visualize what a typical comic book costume would look on a grown man. Here, he re-imagined the costume with a shield similar to the one the character sported in his first stories and a metallic chest and a face mask that is similar to DC Comics'
Commander Steel
. The rest of the costume is a black suit more akin to a special op soldier than a super hero.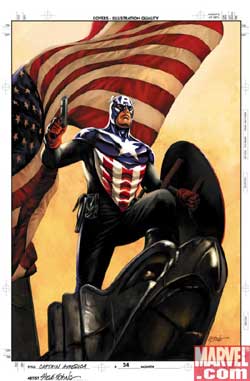 Steve Epting's cover to Captain America #34
Although Marvel Comics is proud of this new costume, it simplifies Captain America's costume tremendously, but removes some of the odd details that differentiated the character from other super heroes. Gone is the chain mail body armour, the sleeves on his arms and the red boots and gloves. This is a Captain America that is much more so stepped into realism, making the character less fantastic and more modern, one would think. Minor changes added to Captain America's costume in the past had modernized him enough for this writer's taste, but only time will tell, if this new metallic Captain America, is the way of the future.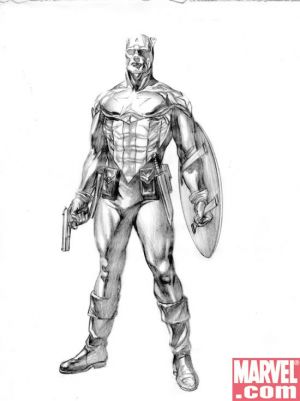 Sketch by Alex Ross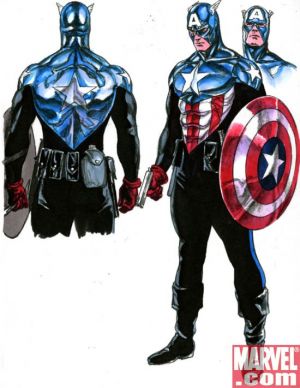 Sketch by Alex Ross
Last Updated: May 19, 2020 - 12:25