Asylum releases first Warlash trailer
By The Editor
February 26, 2007 - 21:51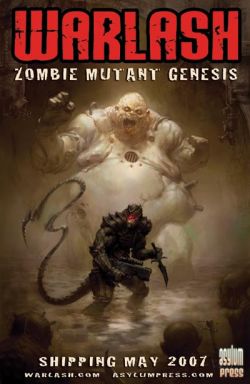 WARLASH COVER ART
" It's Dark, action-packed and full of carnage," says writer/artist Frank Forte's, 72 page, glossy, color, graphic novel, featuring art by Macedonian artist Aleksandar Sotirovski (Image, Pixar) and Seattle's own Ben Olson (Shogo M.A.D, Drakan, Drakan II), doing a painted cover. Published by Asylum Press. Warlash: Zombie Mutant Genesis will be listed in the March 2007 Diamond catalogue, shipping May 2007. Only $4.95!
In futuristic Pittsburgh, Warlash, a biomechanical hybrid warrior, attempts to track down what seems to be a serial killer committing mysterious human mutilations. He soon discovers a rogue geneticist is breeding an army of deadly Zombie Mutants. These genetic monstrosities are not only feeding on the weak, but also changing select humans into a horde of deadly mutating beasts. As the city descends into chaos, Warlash must battle his way to the underground breeding facility and destroy it before it's too late.
Warlash: Zombie Mutant Genesis is the first part of a three part story arc entitled Warlash: Zombie Mutant Massacre.
Last Updated: February 5, 2023 - 09:06