Naruto: Volume 53
By Leroy Douresseaux
December 7, 2011 - 09:42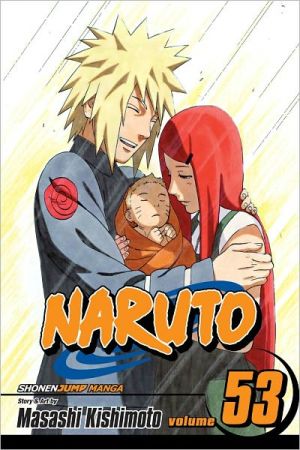 Naruto Volume 53 cover image is courtesy of barnesandnoble.com.
Rated "T" for "Teen"
Uzumaki Naruto is a shinobi (ninja) with dreams of being "Hokage." When he was a baby, someone imprisoned a nine-tailed fox spirit within Naruto's infant body. Now, a 16-year-old ninja with a knack for mischief and a wild sense of humor, he is very serious about his quest to become the world's greatest ninja.
Naruto, Vol. 53 (entitled The Birth of Naruto) finds Naruto under the tutelage of Killer Bee. Like Naruto, Bee is a jinchuriki (and rapper), one whose body holds a biku spirit. He prepares Naruto for his confrontation with "Nine Tails," a battle that leads to a Naruto origin story. We see how Kushina, Naruto's mother, and Minato, his father, met, and how that resulted in the eventual birth of Naruto. Surprising guest appearances reveal the how's and why's of Nine Tails being sealed in Naruto.
THE LOWDOWN: This 53rd volume of Naruto is the most heart-felt that I have read to date. There are some epic battles, including two featuring Nine Tails, but it is the poignant story of Naruto's Ma and Pa that makes this an extra-special must-have for Naruto fans. It's a sweeping epic which evokes the love of husband for wife and the love of a mother for her child and that is testament to the bravura storytelling skills of Naruto creator, Masashi Kishimoto. He is not just the shonen fight club guy.
POSSIBLE AUDIENCE: Readers looking for the world's best comics will find one in Naruto.
A+
Last Updated: August 31, 2023 - 08:12