Naruto: The Official Character Data Book
By Leroy Douresseaux
April 21, 2012 - 13:10
Rated "T" for "Teen"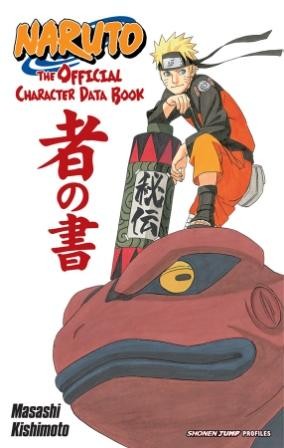 Naruto: The Official Character Data Book cover image
Naruto
is a shonen manga written and drawn by
Masashi Kishimoto
. The series began serialization in 1999, published in the Japanese manga magazine,
Weekly Shonen Jump
, and is still ongoing. Naruto is also a media franchise, which includes two animated television series, several animated feature films, tie-in novels, video games, and lots of Nartuo-related merchandise. The manga has also been collected in 59 tankobon (trade paperbacks or graphic novels) as of this review. VIZ Media published the 55th English-language trade edition in March 2012.
The series focuses on
Uzumaki Naruto
, a teen ninja (or shinobi). When we first meet Naruto, he is a struggling ninja pupil with his eyes on becoming the Hokage, the champion of the village of Konohagakure, although his fellow villagers don't like him. When he was a baby, a nine-tailed fox spirit was imprisoned within Naruto's infant body. Now, Naruto is an irascible 16-year-old with a knack for mischief and a wild sense of humor. He remains, however, very serious about his quest to become the world's greatest ninja and the "Hokage."
Naruto: The Official Character Data Book
is part of the Shonen Jump Profile line of character and series guides covering manga that appear in Weekly Shonen Jump.
Naruto: The Official Character Data Book
is a handy guide to the world of the Naruto manga from the beginning of the series through the chapters published in Volume 43.
Naruto: The Official Character Data Book
opens with an eight-page color section entitled, "The Best Scenes in Naruto." Then "Shinobi Data" gives the reader the height, weight, likes and dislikes of 143 characters, including Naruto. "Jutsu Data" is a comprehensive look at 115 jutsu (spells/conjuring). In "Illustrations Data," creator Masashi Kishimoto offers blueprints and details about the design of 18 characters and creatures, including Naruto. In a bonus manga short story, Naruto and friends see
Kakashi
's true face.
A few months ago, VIZ Media sent me two character profile books. I reviewed
Bleach Official Character Books 2: Masked
some weeks ago. Now, I finally get to
Naruto: The Official Character Data Book
. The designers and editors packed nearly every page of Masked with data; it was enough to give me a headache. The Naruto character book is also brimming with information, but I find it a bit more reader friendly; there is a lot of stuffy, but it is spread out over more pages than were in Masked. In fact, this Naruto guide seems as if it would be easier for a young reader to decipher than the
Bleach
guide.
Smaller sections of data are spread throughout the book, including an eight-page readers' survey chapter. I don't know how much
Naruto: The Official Character Data Book
would help new readers figure out the series, which isn't at all hard to follow. I do think Naruto fans will love it. I love Naruto, and for me, at least, this book is a keeper.
Last Updated: February 5, 2023 - 09:06