Naruto: Volume 68 manga review
By Leroy Douresseaux
March 18, 2015 - 21:26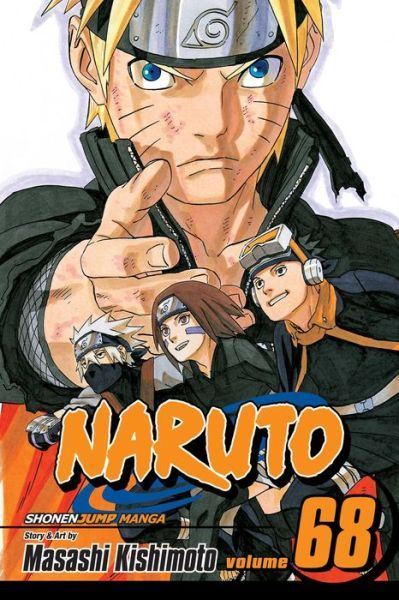 Naruto Volume 68 cover image is courtesy of barnesandnoble.com.
Follow me on
Twitter
.
Rated "T" for "Teen"
As a young shinobi (ninja),
Uzumaki Naruto
had a knack for mischief. He was the biggest troublemaker at the Ninja Academy in the shinobi Village of Konohagakure. Naruto was an outcast because there was something special about him. When he was a baby, his parents (father
Minato
and mother
Kushina
) imprisoned a nine-tailed fox spirit (
Kurama
) inside his infant body. Now, 16-years-old and incorrigible as ever, Naruto is still serious about his quest to become the world's greatest ninja.
Akatsuki villains,
Uchiha Madara
and Kabuto, declare war on the
Five Great Nations
of the ninja, guided in this endeavor by their secret ally,
Uchiha Obito
. This begins the
Fourth Great Ninja War
, so the five great shinobi leaders, known as the
Gokage
, form the
Allied Shinobi Forces
to fight this war. Obito and Madara's goal is to revive the monstrous tailed-beast, Ten Tails, but Obito has even more diabolical plans.
As
Naruto

, Vol. 68
(entitled
Path
– Chapters 648 to 657) begins, Obito, now in possessions of Ten Tails, has raised the
Divine Tree
. This will allow Obito to activate the "
Infinite Tsukuyomi
" to destroy the world, which he sees as Hell because of the scourge of war. Obito also declares that he is now the second "Sage of Six Paths."
In the battle against Obito, Naruto inspires his fellow shinobi just as their will to fight wanes and their strength weakens in the face of the powerful Jinchuriki that Obito has become. Now, Naruto confronts Obito in a man-to-man battle, as they struggle over Obito's version of world peace. Meanwhile, nearby and out of sight, Madara plots.
THE LOWDOWN:
I am still playing catch-up with the
Naruto
manga.
Naruto Volume 68
shipped in December (with Vol. 69 arriving this month, March 2015). I am glad that I have taken the time to go back and read the last few volumes. Creator
Masashi Kishimoto
has made a grand epic out of Uchiha Obito's quest to answer his grief over the loss of someone he loved by remaking the world, but doing that by destroying it first.
The Naruto vs. Obito duel has a surprising ending... well, maybe not so surprising when one considers the imagination and inventiveness of Kishimoto. The world that ought to be is not, and the world that ought not to be is. How does one change that? Perhaps, one cannot, and great power makes one act even worse. Naruto offers a little philosophy with a lot of ninja action.
POSSIBLE AUDIENCE:
Fans of the great shonen battle manga must have the Shonen Jump title,
Naruto
, on their reading lists.
Last Updated: August 31, 2023 - 08:12