Naruto: Volume 65 manga review
By Leroy Douresseaux
April 4, 2014 - 12:43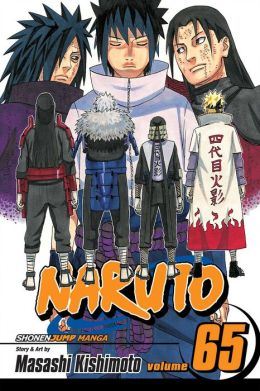 Naruto Volume 65 cover image is courtesy of barnesandnoble.com.
Rated "T" for "Teen"
Uzumaki Naruto, that young shinobi (ninja) with a knack for mischief, was indeed the biggest troublemaker at the Ninja Academy in the shinobi Village of Konohagakure. However, Naruto was also two things: special and an outcast. When he was a baby, his parents (father Minato and mother Kushina) imprisoned a nine-tailed fox spirit (Kurama) inside his infant body. Now, 16-years-old and incorrigible as ever, Naruto is still serious about his quest to become the world's greatest ninja.
Guided by their secret ally, Uchiha Obito, Akatsuki villains Uchiha Madara and Kabuto declare war on the Five Great Nations. This begins the Fourth Great Ninja War, and the five great shinobi leaders, known as the Gokage, form the Allied Shinobi Forces to fight this war.
While Obito and Madara attempt to revive Ten Tails, Naruto, Vol. 65 (entitled Hashirama and Madara – Chapters 618 to 627) begins. Sasuke Uchiha (Naruto's former teammate), Orochimaru, Suigetsu, and Jugo arrive at outskirts of Konohagakure. This quartet enters the resting place of the previous "Hokage" (leader) of Konohagakure. There, Orochimaru uses special magic to revive the previous four Hokage: Hashirama Senju, Tobirama (Hashirama's younger brother), Minato, and Sarutobi.
Sasuke wants to learn, from Hashirama, the truth concerning the destruction and murder of the Uchiha clan. Sasuke will listen to the first Hokage's tale. What he learns will decide his next move – to aid in the destruction of Konohagakure or not.
THE LOWDOWN: The Naruto manga is in the midst of some of creator Masashi Kishimoto's best storytelling. That's saying something when you consider that there is hardly a volume of Naruto that is not top-notch.
Naruto Volume 65 goes deep into the history of Konohagakure and its founding. It involves the long, bloody war between two ninja clans, the Senju and the Uchiha. Rarely have I read fiction that depicts the cost of war on children and on child soldiers as powerfully as this volume of Naruto does. Certainly, no comic book, at least recently, has done what Vol. 65 does.
POSSIBLE AUDIENCE: Readers who want the world's best ninja manga and best comic books must have the Shonen Jump standard bearer, Naruto.
Rating: A+ /10
Last Updated: February 5, 2023 - 09:06