Naruto: Volume 62 manga review
By Leroy Douresseaux
August 5, 2013 - 15:59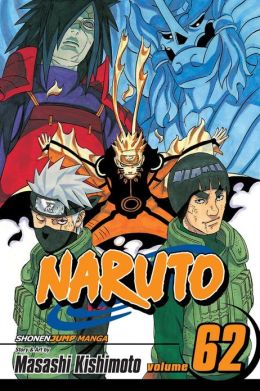 Naruto Volume 62 cover image is courtesy of barnesandnoble.com.
Rated "T" for "Teen"
This young shinobi (ninja) had a knack for mischief. He was the biggest troublemaker at the Ninja Academy in the shinobi Village of Konohagakure. He was also two things: special and an outcast. When he was a baby, his parents (father Minato and mother Kushina) imprisoned a nine-tailed fox spirit inside his infant body. Now, 16-years-old and incorrigible as ever, Uzumaki Naruto is still serious about his quest to become the world's greatest ninja.
Akatsuki villains Uchiha Madara and Kabuto declare war on the world of the ninja known as the Five Great Nations. Thus begins, the Fourth Great Ninja War. The five great leaders, called the Gokage, form the Allied Shinobi Forces to fight back.
As Naruto, Vol. 62 (entitled The Crack – Chapters 588 to 597) opens, the Uchiha brothers, older brother Itachi and younger brother Sasuke, have defeated Kabuto. While unraveling Kabuto's Edotensei spell used by the Akatsuki to revive legendary shinobi in their service, Itachi tells Sasuke the hidden secrets of his past with Konohagakure. That leads Sasuke to gather Team Taka, as he makes a bid to uncover more secrets from the past – by reviving another dead ninja.
On another battlefront, Uchiha Madara releases the perfect Susano'o against the Gokage. Meanwhile, Naruto, Might Guy, and Hatake Kakashi (Naruto's mentor), with Killer Bee, fight the mystery man behind the war. His name is "Tobi," and one of this heroic quartet is about to make a crack in the villain's seemingly impenetrable defenses.
THE LOWDOWN: The Naruto manga is the best action adventure and fantasy comic book for young readers being published today – anywhere in the world – and has been for the last several years (if not for the last decade). Naruto Volume 62 pays off on Vol. 61's storytelling promise concerning Kabuto and Itachi Sasuke and his brother, Sasuke.
As usual, Masashi Kishimoto, humanizes villains and heroes in shocking and surprising ways, this time, especially Itachi. So the bad guy's name is Tobi; at least, that is a name mentioned in this volume by one of the characters. Once again, seeds are planted that may yield great results in the next volume.
POSSIBLE AUDIENCE: Readers who want to read the best of the best must have the Shonen Jump standard bearer, Naruto.
Rating: A+ /10
Last Updated: February 5, 2023 - 09:06