Naruto: Volume 61 manga review
By Leroy Douresseaux
May 10, 2013 - 14:49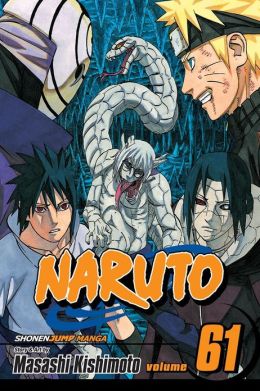 Naruto Volume 61 cover image is courtesy of barnesandnoble.com.
Rated "T" for "Teen"
Uzumaki Naruto, the young shinobi (ninja) with a knack for mischief, was the biggest troublemaker at the Ninja Academy in the shinobi Village of Konohagakure. Naruto was two things: special and an outcast. When he was a baby, his parents (father Minato and mother Kushina) imprisoned a nine-tailed fox spirit inside Naruto's infant body. Now, 16-years-old and incorrigible as ever, Naruto is still serious about his quest to become the world's greatest ninja.
The Fourth Great Ninja War begins when Akatsuki villains Uchiha Madara and Kabuto declare war on the world of the ninja known as the Five Great Nations. The five great leaders, called the Gokage, form the Allied Shinobi Forces to fight back.
Naruto, Vol. 61 (entitled Uchiha Brothers United Front – Chapters 576 to 587) focuses on the Uchiha brothers. Sasuke Uchiha was Naruto's classmate and teammate, but he left Konoha seeking revenge. After battling his older brother, Itachi, Sasuke joined the Akatsuki's cause against Konoha.
As Naruto Volume 61 begins, Sasuke has just discovered that Itachi, who was dead, is now alive. As he has done since the beginning of the Fourth Great Ninja War, Kabuto continues to revive powerful, but dead shinobi and exerts control over them, using these reanimated ninja to battle the Five Great Nations. The reanimated Itachi, however, is different, and he intends on using his reunion with his younger brother to stop Kabuto.
Meanwhile, the story takes us into Kabuto's past. A young nun, Yakushi Nonou, and the villainous Orochimaru, make appearances. Learn how Kabuto went from kid to killer.
THE LOWDOWN: I make no secret of my love for the Naruto manga. I think that it is the best comic book being published today – anywhere in the world – and has been for the last several years. It is not rare that the creators of battle manga, fight comics, action comics, adventure comics and superhero comics present heroes and villains with great detail about their personalities, conflicts, and motivations. No one is doing that on the scale of Naruto creator, Masashi Kishimoto.
Without giving anything away, Naruto Volume 61 reveals the depth of character of two characters, Kabuto and Itachi Sasuke. Kishimoto humanizes both characters in shocking and surprising ways. He will make you love the characters without turning them into good guys or even tragic heroes. What is frightening to me is that Kishimoto will continue to produce Naruto that is as good as this volume or even better – I know it.
POSSIBLE AUDIENCE: Readers who want to read the best of the best must have the Shonen Jump standard bearer, Naruto.
Rating: A+ /10
Last Updated: August 31, 2023 - 08:12