Naruto: Volume 59 manga review
By Leroy Douresseaux
Nov 6, 2012 - 17:08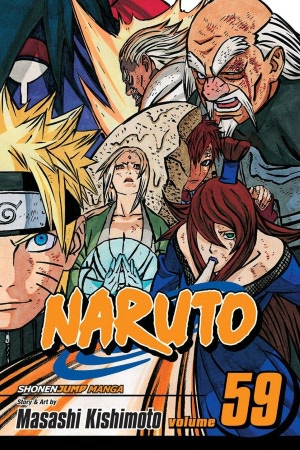 Naruto Volume 59 cover image is courtesy of barnesandnoble.com.
Rated "T" for "Teen"
Uzumaki Naruto was a young shinobi (ninja) with a knack for mischief. The biggest troublemaker at the Ninja Academy in the shinobi Village of Konohagakure, Naruto was special because when he was a baby, his parents imprisoned a nine-tailed fox spirit within his infant body. Now, a 16-year-old ninja and incorrigible as ever, the mischievous Naruto is still serious about his quest to become the world's greatest ninja.
Akatsuki villains Madara and Kabuto declare war on the Five Great Nations, the world of the ninja. The five great leaders known as the Gokage form the Allied Shinobi Forces to fight back. Thus begins the Fourth Great Ninja War.
As Naruto, Vol. 59 (entitled The Five Kage) starts, Allied Shinobi Forces try to change the tide of the war, which thus far has been against them. The arrival of Naruto's doppelgangers rallies the troops, especially because the "Narutos" can spot the enemy combatants masquerading as part of the shinobi forces.
However, Naruto and his allies are still having a difficult time with the army of undead ninja raised by Kabuto. Now, the Five Kage, the leaders of all five shinobi villages, step forward to fight two of their most powerful adversaries, Zetsu and the other who proves to be a most shocking resurrection. Meanwhile, where are Killer Bee and the real Naruto?
THE LOWDOWN: The Naruto manga is in the middle of a long story arc, the Fourth Great Ninja War. The series itself often reads like one long arc, but I get the feeling that at some point, the series will transform into something new that will also read like one long arc. This kind of series needs regular surprises, lest the audience grow bored, although I find the moments in which Naruto is boring to be so few and so far between.
Naruto creator Masashi Kishimoto rarely (if ever disappoints), and the big reveal that appears in this volume is not only shocking, but is also exciting. It lets the reader know that there is even more richness deep in the back story/history/mythology that is Naruto.
POSSIBLE AUDIENCE: Readers who want to read the best of the best will want the Shonen Jump standard bearer, Naruto.
Rating: A /10
Last Updated: Dec 19, 2017 - 22:52