Naruto: Volume 57
By Leroy Douresseaux
July 6, 2012 - 11:28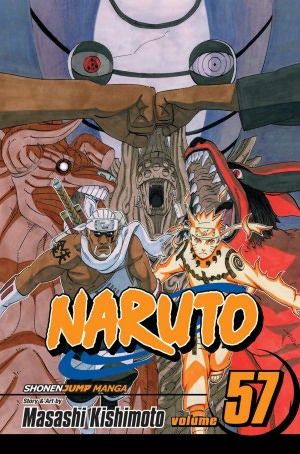 Naruto Volume 57 cover image is courtesy of barnesandnoble.com.
Rated "T" for "Teen"
It did not matter that Uzumaki Naruto was the biggest troublemaker at the Ninja Academy in the shinobi (ninja) Village of Konohagakure. Naruto is special because when he was a baby, his parents imprisoned a nine-tailed fox spirit within his infant body. Now, a 16-year-old ninja, mischievous Naruto is very serious about his quest to become the world's greatest ninja.
Akatsuki villains Madara and Kabuto declared war on the ninja world, the Five Great Nations. The Gokage, the five great leaders, put together the Allied Shinobi Forces to fight back. As Naruto, Vol. 57 (entitled Battle) begins, the Fourth Great Ninja War rages on, with bodies piling up on both sides. The tide, however, is turning in favor of Madara and the Akatsuki. How are they infiltrating the Allied Shinobi Forces? And where is Naruto?
Fearing what will happen if the Akatsuki are able to capture Naruto and extract Nine-Tails, the Gokage has hidden the young ninja away. Naruto won't be held back anymore and will not let his fellow ninja die protecting him. He is determined to join the battle, but the leader of the Cloud Village, the Raikage, is also determined to stop Naruto, even if he has to kill him.
THE LOWDOWN: This 57th volume of the Naruto manga has two great halves. First, there is the mystery of the Akatsuki infiltration of the Allied Shinobi Forces. It's a page-turner, because I know I was reading pages so fast that I'm sure I missed some things. The second story pits the Raikage against both his pupil, Killer Bee (whose body holds the Eight-Tails octopus spirit) and Naruto (Nine-Tails fox spirit). This story puts a nice (surrogate) father-son spin on the ninja battle action. The part where Naruto proves his worth will please fans of the character; it's another side of his stubborn, determined nature that makes him so appealing.
POSSIBLE AUDIENCE: Readers who want to read the best read the best, which is Naruto.
Rating: A /10
Last Updated: August 31, 2023 - 08:12