Naruto: Volume 54
By Leroy Douresseaux
January 3, 2012 - 09:01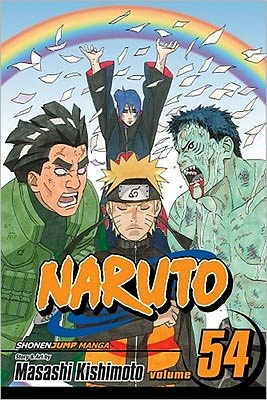 Naruto Volume 54 cover image
Rated "T" for "Teen"
Uzumaki Naruto is a 16-year-old ninja (shinobi) with a knack for mischief and a wild sense of humor. When he was a baby, his parents imprisoned a nine-tailed fox spirit within Naruto's infant body. He is very serious about his quest to become the world's greatest ninja and his dreams of being "Hokage," his village's champion.
Naruto, Vol. 54 (entitled Peace Viaduct) opens with Naruto's tutelage under Killer Bee complete. Naruto has learned how to manage Nine-Tails power. Like Naruto, Bee, who is also a rapper, is a jinchuriki, one whose body holds a biku spirit, and now he's discovered an Akatsuki spy close to him. We also learn the history of the Akatsuki and also the secrets of the internecine fighting that threatens their plot against Naruto.
THE LOWDOWN: After the sweeping epic that is the poignant story of Naruto's Ma and Pa, series creator, Masashi Kishimoto returns to the intrigue, suspense, thrills, and battle magic that make Naruto a great-fantastic read. Prepare for secrets, lies, subterfuge, chills, and thrills as the series movies into the "Great War." If you're reading Naruto, you don't have a reason to stop. If you're not, start reading.
POSSIBLE AUDIENCE: Readers looking for the world's best comics will find one in Naruto.
A+
Last Updated: August 31, 2023 - 08:12