Naruto: Volume 46
By Leroy Douresseaux
September 25, 2009 - 08:37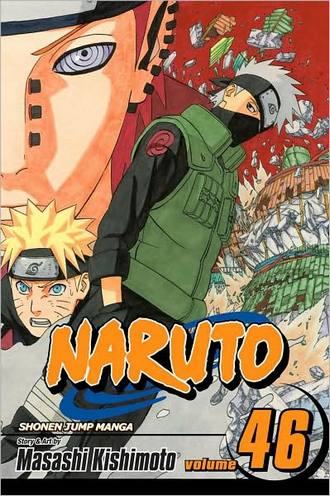 Naruto Volume 46 cover image is courtesy of barnesandnoble.com.
Rated "T" for "Teen"
When he was a baby, a nine-tailed fox spirit was imprisoned within Uzumaki Naruto's infant body. Now a teenager, Naruto is counted among the ranks of the Konoha shinobi. These illustrious shinobi (ninja) protect their village from forces trying to destroy it from within and without. Although he has a knack for mischief and a wild sense of humor, Naruto is very serious about his quest to become the world's greatest ninja and "Hokage" (village champion) continues.
As Naruto, Vol. 46 (entitled Naruto Returns) opens, the shinobi of Konoha are fighting a desperate battle to defend their village against an attack from Pain and his Akatsuki minions. Led by their Hokage, the Lady Tsunade, the shinobi are unraveling the mysteries of both Pain's origin and his powers, but will it be enough and in time to save their village? Meanwhile Naruto, the person Pain seeks, remains at Mount Myoboku, training in senjutsu with the toad, Fukasaku.
THE LOWDOWN: Three months after the last volume, Naruto returns, and it still is an absolutely fantastic read. Naruto is a shonen manga (comics for teen boys), probably the most popular shonen manga in the world. Naruto's concept is rather ordinary; it is about a boy who trains to be the best kind of hero in his land, and the hero-type of his native land is the shinobi or ninja. Not much else, however, about this series is ordinary.
The unusual setting (a land basically ruled by ninja), a fantastic lead (a mischievous boy ninja), riveting conspiracies, captivating intrigue, chilling villains (the Akatsuki), mind-bending magic, etc.: the list of wonderful elements with which creator Masashi Kishimoto endows this manga is worthy of attention. How he has brought them together and executed them into the world's best comic book is remarkable, to say the least.
The proof is this volume – an incredible read that will hold the reader from the first words to the last.
POSSIBLE AUDIENCE: Readers looking for the best look for Naruto.
A+
Last Updated: August 31, 2023 - 08:12